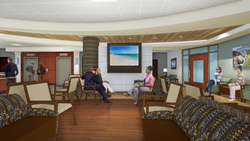 We are thrilled to complete another important piece of our multi-faceted expansion and renovation project.
Tampa, FL (PRWEB) January 08, 2016
After almost a year-long renovation project, Florida Hospital Carrollwood will celebrate the opening of 25 new, private patient rooms on the 4th floor of its Medical Office Tower, with a ribbon cutting ceremony on Friday, Jan. 8, at 9 a.m.
The new rooms will be dedicated to caring for patients following surgery, and are equipped with numerous special touches to enhance not only a patient's stay, but also the experience of attending loved ones. Each private room is spacious and offers a pull-out sleeper chair for visiting family members, as well as the features of the GetWellNetwork. This interactive television provides patient education, enhances communication with a patient's care providers and offers a variety of entertainment options.
The renovation of the 4th floor and addition of patient rooms is part of a larger expansion and renovation project currently underway at Florida Hospital Carrollwood and set for completion in 2017. The project will bring additional and updated OR space, expanded interventional cardiology, endoscopy and cystoscopy service areas, as well as other facility improvements and enhancements.
"We are thrilled to complete another important piece of our multi-faceted expansion and renovation project," said Joe Johnson, President and CEO. "We have so many exciting changes in store for the next several years, and our entire team is excited to continue growing and improving to meet the needs of our community."
About Florida Hospital Carrollwood
Florida Hospital Carrollwood is a 120-bed acute care facility that specializes in providing comprehensive medical services to community residents in the northern Tampa Bay region. Awarded by the Florida Hospital Association for Leadership in Quality and Patient Safety in 2014 and 2015, the hospital is a member of the West Florida Region of Florida Hospital and Adventist Health System. Florida Hospital Carrollwood offers exceptional spine, orthopedic and bariatric surgical services, as well as ER, Cardiology, and Wound Healing services in an environment focused on Christian compassion and an inspired approach to healthcare. For more information, please visit fhcarrollwood.org.