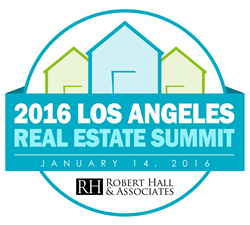 With real estate industry professionals all under one roof, this is an event you don't want to miss!
Glendale, CA (PRWEB) January 13, 2016
This event features educational seminars, investor panel discussions and networking opportunities. Ideal for realtors, brokers, buyers and flippers, pro and novice alike. Get ready to learn, as there will be workshops all day, in addition to over 30 exhibitors. The summit agenda is as follows:
9:00am - Opening Session
Speakers: Bill Tan, Robert Hall, & Stephen Hall
9:30am - Power Talk: Real Estate For Investors (20 minutes)
Speaker: Melina Kalachian - Coldwell Banker
10:00am - Power Talk: Raising Capital With Tax-Deferred Dollars for Real Estate Investing and Private Notes (20 minutes)
Speaker: Belinda Savage - IRA Services Trust Company
10:30am - How to Protect and Save Thousands as a Real Estate Professional (50 minutes)
Speaker: Tony Watson - Robert Hall & Associates
11:30am - Power Talk: The Latest Opportunities for Real Estate Investments, Including 1031 Exchanges (20 minutes)
Speaker: Robert Tweed - Tweed Financial Services
12:00pm - Power Talk: Buy More - Buy Deeper (20 minutes)
Speaker: Bob Rometo - We Buy Ugly Houses
12:30pm - Panel: How to be a Successful Real Estate Investor (60 minutes)
Panelists: Stephen Hall, Iris Veneracion, Ross Nelson, and Robert Orfino
1:40pm - Power Talk: Ditch Wall Street With 1st Position Notes! (20 minutes)
Speaker: Jasmine Willois - The Note Assistance Program
2:10pm Power Talk: Learn About Down Payment and Closing Costs Assistance from CalHFA (20 minutes)
Speaker: Sharyl Silva - California Housing Finance Agency
2:45pm - Stay Put, Cash Out, or Change Seats? (60 minutes)
Speaker: Bruce Norris - The Norris Group
Be sure to RSVP - click here to save your spot.