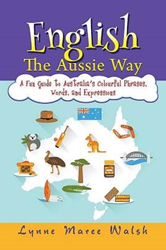 "This book offers a fun way to learn the words and phrases that Australians are known for." - Robert Fletcher, CEO of Strategic Book Publishing and Rights Agency
(PRWEB) January 15, 2016
Even though people speak English throughout the world, it can still sound like a foreign language if one doesn't understand the local slang.
Welcome to the world of "English, The Aussie Way: A Fun Guide to Australia's Colourful Phrases, Words, and Expressions." Written by a Sydney native, this guide offers an amusing way for English or non-English speakers to learn the colloquial phrases for which Australia is famous. This user-friendly reference provides words, phrases, meanings, and synonyms by using an example sentence, such as:
Bill's having a bit of a bash Saturday arvo. He's supplying the grog and has asked us to bring a plate. (Translation: Bill's having a big party on Saturday afternoon. He's supplying the alcohol and has asked us to bring food.)
I dunno. All I saw was a guy in trackies take off down the road in a ute. (Translation: I don't know. All I saw was a guy wearing a tracksuit drive away in a utility truck.)
"This book offers a fun way to learn the words and phrases that Australians are known for. We are proud to announce its release," said Robert Fletcher, CEO of Strategic Book Publishing and Rights Agency.
Author the Author: Lynne Maree Walsh was born and raised in the northern beaches area of Sydney, Australia. Most of her childhood activities involved water sports, including sailing and surfing. She was a vocational education trainer and part-time ESL teacher at a business college in Sydney. For seven years she housed international students who were attending English language schools in Sydney, and realised that although they had a good grasp of formal grammar, they struggled to understand colloquial English and commonly used phrasal verbs, which could not be found in a standard dictionary. The mother of two sons, she now lives in Denver, Colorado.
ENGLISH, THE AUSSIE WAY: A FUN GUIDE TO AUSTRALIA'S COLOURFUL PHRASES, WORDS, AND EXPRESSIONS (ISBN: 978-1-61897-544-7) is now available for $29.50 and can be ordered through the publisher's website:
http://sbprabooks.com/LynneMareeWalsh or at Amazon.com or Barnesandnoble.com.
WHOLESALERS: This book is distributed by Ingram Books and other wholesale distributors. Contact your representative with the ISBN for purchase. Wholesale purchase for retailers, universities, libraries, and other organizations is also available through the publisher; please email bookorder(at)sbpra(dot)net.