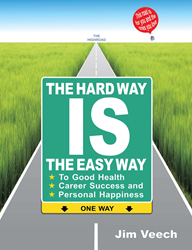 Hazelwood, MO (PRWEB) January 19, 2016
Author Jim Veech believes taking the easy way out has become pandemic in our society and is largely responsible for many of the problems confronting our nation today. His new book, "The Hard Way Is The Easy Way To Good Health, Career Success And Personal Happiness," examines these problems and the underlying reasons for choosing the wrong path. It guides people up The Highroad using proven how-to techniques, challenging exercises, motivational quotations and true story examples. Most important, it gives readers the crucial life skills and courageous solutions necessary to overcome adversity, avoid major mistakes and achieve real success. Jim believes that The Hard Way work ethic is something to be very proud of, and is the surest and easiest way to attain victory in life.
This is Jim's second self-published book. The first, "Favorite Quotes And True Stories To Live By," includes 577 of his most favorite quotations organized under 25 topic headings, and 7 true stories with a message. He's also added a section describing how to: make a commitment; collect, organize, write, update and print your book; plus examples of the many benefits of this process. Your end result? A great learning experience, and unique family heirloom, guaranteed to give your life and future generations more meaning and direction. What a wonderful learning and teaching tool. What a meaningful present to family and friends. A gift of love and experience.
The Hard Way is available from Mira Digital Publishing by clicking on this link: http://www.mirabooksmart.com/The-Hard-Way-Is-the-Easy-Way-to-Good-Health-Career-Success-and-Personal-Happiness_p_639.html
To purchase Jim's first book, Favorite Quotes and True Stories to Live By, click here: http://www.mirabooksmart.com/Favorite-Quotes-and-True-Stories-to-Live-By_p_640.html
Both books can also be purchased from THE HARD WAY Publishing Company at:
P.O. Box 172
Hazelwood, MO 63042
Jim Veech served in Vietnam with the United States Marine Corps, and earned his B.S. and M.A. in Education. He was the Saturn Corporation national Consultative Sales Process Workshop facilitator for five and a half years, as well as the founder and President of Professional Auto Sales Consultants for ten years. In addition, Jim played football with the Missouri Tigers for four years. A former high school teacher, coach and adult educator, Jim is committed to helping people realize their goals. He does not, however, pretend to be a so-called expert or to have all the answers. What he does have, is 70 years of hard earned experience, and a sincere desire to help others succeed.