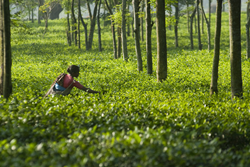 Denver, CO (PRWEB) January 12, 2016
Appel Lipsius was honored with an award in the category of "Citizenship" for Teatulia's work to improve the lives of people and communities by advancing environmental and social sustainability knowledge and practice. With her co-founder, Kazi Anis Ahmed, Appel Lipsius created Teatulia, a single-estate organic tea garden in Tetulia, a region in Northern Bangladesh that's one of the poorest in the world.
"The tea garden was a social enterprise designed to create jobs in a remote and impoverished area of Bangladesh—we wanted to do something that would make a difference for the land and its people," Appel Lipsius said of the inspiration for starting Teatulia.
All sales support Teatulia's farming cooperative, which introduced a revolutionary new economic model to the region. The co-op's members working in Teatulia's garden and surrounding communities now benefit from innovative education, health, and cattle-lending programs that didn't exist before.
"It's amazing to see your work change lives by creating opportunity. Our programs are making a huge impact on the lives of the Bangladeshi communities working in our tea garden," continued Appel Lipsius.
Teatulia's 3,000-acre tea garden employs more than 600 workers and supports 1,700+ community members through its farming co-op. The co-op teaches organic farming, allowing members to feed their families and strengthen their socio-economic condition by earning a profit on their crops. The co-op's education programs have improved literacy rates by 50% or more and graduated more than 370 of its members. The co-op also supports a cattle-lending program where members are loaned dairy cows in exchange for cow dung used as compost for the tea garden.
"What was once a poverty-stricken region in a dry, barren wasteland is now a lush paradise," Appel Lipsius reported. "Our organic farming has not only provided jobs but also helped restore the ecosystem for future generations."
Teatulia's garden is the only USDA-certified organic farm in Bangladesh and uses only clean farming practices, including reclaimed water and no chemicals, pesticides, or fertilizer. Teatulia not only introduced the first garden-direct, organic tea from Bangladesh to the U.S. but also pioneered a new environmentally friendly tea packaging concept—an eco-canister made from 100% recyclable and compostable materials.
Ron Tanner, Vice President of Philanthropy, Government, and Industry Relations for the Specialty Food Association, said of the recent Leadership Awards winners, "Throughout the specialty food industry, dedicated entrepreneurs demonstrate creativity, business acumen, and a commitment to make the world a better place through their products and practices. Their efforts toward worker empowerment, protection of the environment, and fair regulations and policies continue to break new ground and inspire others to take action."
The Leadership Awards will be presented at a special ceremony on January 18 at the Winter Fancy Food Show in San Francisco. Nominations for the awards were made by members of the Specialty Food Association and others in the specialty food industry. A panel of judges composed of industry experts and influencers selected the honorees from dozens of nominees. Read more about the Leadership Awards and this year's winners here.
About the Specialty Food Association:
The Specialty Food Association is a thriving community of food artisans, importers and entrepreneurs. Established in 1952 in New York, the not-for-profit trade association provides its 3,000 members in the U.S. and abroad the tools, knowledge and connections to champion and nurture their companies in an always-evolving marketplace. The Association owns and produces the Winter and Summer Fancy Food Show and presents the sofi Awards honoring excellence in specialty food.
About Linda Appel Lipsius:
With a background in eco-friendly consumer goods and a passion for social responsibility, Linda Appel Lipsius introduced Teatulia to the U.S. in 2006. A decade later, Appel Lipsius has turned Teatulia into one of the fastest growing international tea brands and a model for how companies can successfully take a sustainable approach to business. Through Appel Lipsius' leadership, Teatulia earned its Rainforest Alliance Certification and was one of the first Colorado companies to become a Certified B Corporation. Appel Lipsius' commitment to sustainability extends to the environmentally friendly and award-winning packaging she helped Teatulia pioneer for the tea industry—a revolutionary eco-canister made from 100% compostable and recyclable materials. In addition to the 2016 Specialty Food Association Leadership Award, Appel Lipsius was a finalist for Colorado's 2014 Outstanding Women in Business. Through her leadership Teatulia was also selected as a 2014 Colorado Company to Watch and named as one of Forbes' Top 25 Innovative Consumer Brands in 2015.
About Teatulia Organic Teas:
Teatulia sources its teas directly from its own organic tea garden in Bangladesh and other like-minded gardens. The teas are cultivated using only natural farming methods, and garden-direct sourcing means the teas don't sit in long-term warehouse storage or wait around to be blended by a third party. This results in great-tasting teas that are better for the land, its people, and the environment. Teatulia's award-winning teas are sustainably packaged in 100% recyclable and compostable materials and are available at specialty food and grocery stores, fine-dining restaurants, colleges and universities, and hotels. The teas are also available online at http://www.teatulia.com.
For more information, visit http://www.teatulia.com or call 1.888.860.3233. Like Teatulia on Facebook and follow us on Google+.
CONTACT
Chris Olsen, Marketing Director, 303.433.2980 x301, chris(at)teatulia(dot)com