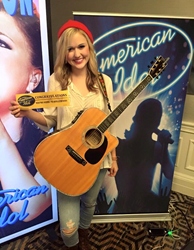 This is a wonderful experience and I am very grateful to everyone at American Idol for this opportunity.
Los Angeles, CA (PRWEB) January 11, 2016
Orange County's own Mary Desmond will not have far to travel when she goes for the next round of auditions and "Hollywood Week" as part of the farewell season of "American Idol." Desmond auditioned for Jennifer Lopez, Keith Urban and Harry Connick Jr. in San Francisco and was awarded a "golden ticket" to compete during "Hollywood Week." While only a junior in high school, Miss Desmond is a veteran performer with dozens of recordings, original songs, and live performances already to her credit. A successful audition for "American Idol" is the high water mark for her young career to date.
Audition Details
Miss Desmond auditioned with jazz standard "Fever" in San Francisco, CA. She received a yes from all three judges. "Harry Connick Jr. suggested that this might not be the right song for me, but he still gave me a yes," Miss Desmond said. "The whole process of working with the people from the program has been extremely gratifying for me, and I am enormously grateful to have this opportunity."
For the immediate future, the program will continue to show auditions from other cities. The program scheduled for January 13, 2016 features Philadelphia and San Francisco. The January 20, 2016 program originates from Atlanta, Philadelphia and on January 21, 2016 back to San Francisco.
Her Latest Release
Mary Desmond is no stranger to performing and recording. Her latest release "Kiss You" was released January 6, 2016 in honor of her audition on American Idol. The original song can be heard on her You Tube channel at https://www.youtube.com/watch?v=IWdINPxh3nU.
Mary Desmond has over 44,000 subscribers to her You Tube channel, 58,400 Twitter followers and just as many Facebook friends. You can follow Mary Desmond on twitter, (@Desmond_Mary) and on Facebook (https://www.facebook.com/marydesmondonline).
PHOTO CAPTION: Mary Desmond with her "golden ticket" to Hollywood Week as part of the farewell season of American Idol. Mary auditioned with her Martin Guitar.
For More Information Contact
Harold Nicoll
haroldnicoll(at)gmail(dot)com
979 292 8026