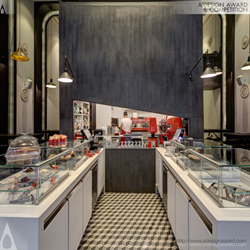 Como, Italy (PRWEB) January 09, 2016
A' Design Award and Competition is pleased to inform that the design project Rook by Helen Brasinika has been announced as a winner of the Golden A' Design Award in Hospitality, Recreation, Travel and Tourism Design Competition Category.
More information on Rook
Helen Brasinika, the creative mind behind the award winning Hospitality project Rook explained "The word Rook means tower and it was chosen metaphorically to hint a strategy game on an entertainment chessboard. The design concept based on the contrasting nature of White and Black, created an interplay between old and new allowing various metaphors to enable this link between past and present. While taking into account the building history and location, elements of adaptive reuse were employed accentuated by materials and patterns in order to emit the element of time from a minimalist perspective." To learn more visit: https://competition.adesignaward.com/design.php?ID=40111
Project Members for Rook
Rook was designed by Helen Brasinika, Principal Designer, Researcher & Co-founder, Brasinika Panagiota, Design Assistant Project Management , Anastasia Rokkou, 3D Cad & Renderings and Chris Kougoulos, Civil Engineer Construction
The Golden A' Design Award
The Golden A' Design Award in Hospitality is a prestigious design award given to top 3% percentile designs that have achieved an exemplary level of perfection in Hospitality design. Entries to the A' Hospitality Design Awards are peer reviewed and anonymously voted by a grand jury panel of established academics, press members and design professionals following strict evaluation guidelines. Laureates of the A' Design Award & Competition are provided a series of PR and Publicity services, such as exhibition of their work in MOOD Museum of Design, to celebrate the status of winning the accolades. Award winners are further invited to join the World Design Consortium and are listed in designer rankings. Entry instructions, evaluation methodology and details on winner services and prizes are available at A' Design Awards website.
About A' Design Award and Competition
A' Design Award and Competition is organized and awarded annually and internationally in all design and architecture disciplines to reach a worldwide, design-oriented audience. The ultimate aim of the A' Design Award & Competition is to promote good design practices and practices among general public. To learn more visit: http://www.whatisadesignaward.com