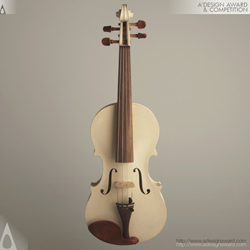 Como, Italy (PRWEB) January 09, 2016
A' Design Award and Competition is pleased to announce that the design project P'iolin by Hsieh, Yi-Jen has been announced as a winner of the Golden A' Design Award in Arts, Crafts and Ready-Made Design Competition Category.
More on P'iolin
Hsieh, Yi-Jen, the designer of the award winning Art project P'iolin explained "P'iolin is a Stradivarius 1/2 violin which is made of French water color paper. Even both wood and paper are the materials used widely in our life, there are still a lot of different properties between them. Paper, as the recombination of wood, is the material used to record information and art. Actually, it was used to record music as the music score and to present the paints as water color paper. Therefore, P'iolin is a design try to make paper to combine these concepts; expressing music with the performance of paper." Learn more about the award winning design: https://competition.adesignaward.com/design.php?ID=38337
The Golden A' Design Award
The Golden A' Design Award is a prestigious award given to top 3% percentile designs that has carried out an exemplary level of excellence in design. Entries to the A' Design Award & Competition are peer reviewed and anonymously judged by a grand distinguished jury panel of architects, designers, press members and academics. Laureates of the A' Design Award & Competition receive an extensive public relations and promotion package that helps celebrate the success of winning the design accolades. Award winners are invited to join Prime Clubs such as the International Association of Designers and are further invited to become World Design Consortium partners. Awarded entries are physically exhibited in multiple countries, and winners are invited to join a gala-night and award ceremony in Italy to collect their trophies, yearbooks and design excellence certificates.
About A' Design Award and Competitions
A' Design Award & Competition was established to promote good design practices and principles by featuring extraordinary designs in order to create a global awareness for good design worldwide. The ultimate aim of the A' Design Competition is to push forward designers, artists, architects and companies worldwide to come up with superior design projects that benefit society. Learn more and discover about A' Design Awards at http://www.whatisadesignaward.com.