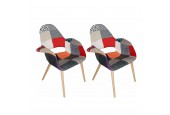 After the holidays we seemed to be sold out on a lot of products, however with this new container in, we are ready!
(PRWEB) January 12, 2016
As the first week of the new year settles in, so does the EZmod Furniture inventory. EZ has received a new carton that adds to the inventory this week, and items that have been out of stock are finally back in stock and available to customers. Many popular items, including the Bertoia Style Counter Stool and the unique Morza Chair two-pack.
As the carton gets accounted for, the inventory is ready to be stocked and into the hands of customers. "EZmod is very excited to have new inventory in stock and available for customers," explained Gloria Ortega, Operations Manager. "After the holidays we seemed to be sold out on a lot of products, however with this new container in, we are ready!" This also includes some of the featured items.
As always, the Bertoia Style Counter Stool that sold out is now back in stock. Inspired by the pieces by the famous Harry Bertoia, our Bertoia Counter Stool is everything a midcentury modern lover is looking for in a collection. Best known for the mesh design, the Bertoia is an excellent example of emphasizing space and material. Overall, the idea behind these stools is more about the space surrounding it versus the actual furniture piece. In the words of Mr. Bertoia himself, "they are mainly made of air, like a sculpture. Space passes right through them." The oversea factories of EZmod aim high to reproduce these beautiful and modern classic pieces so the customer can enjoy them for years to come.
Another favorite back in stock is the Morza Chair. Known for being both sophisticated and edgy, this unique pair of chairs will certainly not disappoint. The Morza Chair two-pack comes in the very stunning black color as well as the over-the-top patchwork. Do not be fooled with the patchwork pattern, however. Patchwork is a top seller and can be easily blended into any living space with natural rock and wood. This midcentury modern inspired favorite has wooden legs, foam seat padding and is sold in sets of two.
EZmod Furniture is a modern furniture company located in Baldwin Park, CA. For more information on the Bertoia Counter Stool or Morza Chairs, please do not hesitate to contact Angelique Valdez, Sales Support and Marketing Manager at 866-630-6161 ext. 113 Monday through Friday 8:30am to 5:00pm PST.