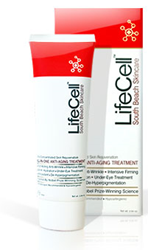 Los Angeles, CA (PRWEB) January 10, 2016
Lifecell has sponsored the GBK luxury lifestyle gift lounge. Lifecell is a cruelty-free line of skincare products formulated to target every aspect of aging skin. The event will take place on January 8th and 9th in Hollywood, California.
Beauty and health products are must-haves for any luxury lounge, especially the ones Hollywood's A-List attends. In addition to sponsoring the event, LifeCell will be providing each nominee with every single product from their line of anti-aging products. LifeCell's team of estheticians and coordinators will be in attendance to give on the spot mini-facials to demonstrate just how effectively LifeCell products work.
A favorite amongst the elite group of attendees is always the All-in-One Anti-Aging Treatment and the Antioxidant BB Cream. When incorporated in a simple skincare regimen, these two products provide maximum anti-aging and age-prevention results. LifeCell All-in-One Anti Aging Treatment is formulated with a special blend of scientifically tested peptides and vitamins to ensure every aspect of aging skin is targeted, not just wrinkles. This product helps treat the look of sagging skin, dark spots and even enlarged pores. When used with the antioxidant BB cream it can make users look years younger. The BB cream contains broad spectrum SPF 30 to shield the skin from the sun's damaging UVA and UVB rays that are known to accelerate the aging process.
Beauty and charity go hand-in-hand during this event. The following are charitable organizations who will benefit from this luxury event.
Lambda Legal - Lambda Legal is a national organization committed to achieving full recognition of the civil rights of lesbians, gay men, bisexuals, transgender people and those with HIV through impact litigation, education and public policy work.
Food on Foot - Food on Foot is a non-profit organization dedicated to providing the poor and homeless of Los Angeles with nutritious meals, clothing, job opportunities, and assistance in the transition to employment and life off the streets.
Sugar Ray Leonard Foundation - The Sugar Ray Leonard Foundation is committed to funding research and creating awareness for childhood type 1 & 2 diabetes and to help children lead healthier lives through diet and exercise.