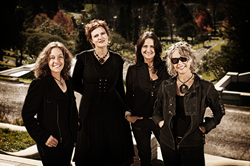 They are accomplished musicians on their own, and when they get together, the sum is even greater than its parts – they are their own entity." - Rosalie Howarth, KFOG Radio
San Rafael, CA (PRWEB) January 10, 2016
The Kanbar Center for the Performing Arts at the Osher Marin JCC brings local favorite, Blame Sally and their eclectic and undeniably original brand of folk pop that plays on the "indie edges of Americana" back for a rare Marin appearance.
Blame Sally creates an eclectic and undeniably original brand of folk pop that plays on the "indie edges of Americana". Bringing together four unique voices and musical backgrounds, Blame Sally has forged a cohesive sound that is instantly recognizable and compelling.
With their decade plus of live performances and recordings, they have established a legacy of song combining country, folk, rock, Celtic and strains of classical music, which has "brought originality together with a roots sensibility and pop accessibility." This local folk-rock quartet with an attitude, combines acoustic textures with Americana harmonies and an independent spirit.
"A Blame Sally show feels like a house concert — relaxed, good humored, and unpretentious. This veteran San Francisco folk rock band is comfortable in its accomplished musical skin and in its warm and easy contact with one another and the audience." – David Kerns, Napa Valley Register
WHAT: Blame Sally performs live at the Osher Marin JCC
WHO: All are invited, no membership or affiliation necessary.
SEATING: Reserved VIP Cabaret Table seating, Reserved seating, & General Admission choices
TICKETS: $25 – $40 / Student discount for ages 17 & under
WHEN: Sat. Feb. 27 @ 8:00pm | 7:30pm: Doors | 7:00pm: Wine/Beer, Concessions
WHERE: The Osher Marin JCC, 200 North San Pedro Road, San Rafael
PARKING: Ample FREE parking. Accessing the Osher Marin JCC from Highway 101 is effortless,
1/2 mile E off 101
TICKETS: Available at marinjcc.org/arts
MORE: Independent Music Award winning Blame Sally has always been impossible to pin down with clichés and conventional wisdom. Formed in 2000, Blame Sally – Pam Delgado (percussion and vocals), Renee Harcourt (guitar, bass and vocals), Jeri Jones (guitar, bass and vocals} and Monica Pasqual (piano, accordion and vocals) boasts not only strong compositional and vocal skills, but serious instrumental chops as well. "I don't think there are that many well-known women singer-songwriters who are that good on their instruments," says Pasqual. "Ani DiFranco, Bonnie Raitt or Tori Amos, yeah, but they're often backed up by men. So people do get surprised when they see four women playing really well. It crosses a lot of gender and age stereotypes, too; people who are just into music all really relate to that."
Within a year of their formation, Blame Sally was receiving radio airplay on KFOG, then on XM Radio. Severland hit #1 on XM's "Starbucks Café". Before long they were playing larger venues and attracting increasingly more sizable audiences, including a co-bill with the legendary Joan Baez in June 2009 at Stern Grove in San Francisco.
The Kanbar Center for the Performing Arts is the Performing Arts Department within the Osher Marin Jewish Community Center in San Rafael, California. For over 20 years we have spread the power of music, voice, humor, taste, culture, movement and words throughout the community by presenting a wide range of musical events including classical, contemporary, and jazz concerts, club style dancing events, comedy, theater and arts performances, all in the grand Hoytt Theater. Lectures, chats and demonstrations are presented in the Kurland Lounge, and each summer inspiring world music & dancing for all ages takes place outdoors under the stars, on Swig Field.