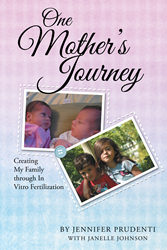 I want to help women who are embarking on this emotional journey to know that they are not alone
Albertson, N.Y. (PRWEB) January 11, 2016
As author Jennifer Prudenti knows firsthand, one in eight American couples have difficulty getting pregnant or sustaining a pregnancy according to a CDC survey. Alternative therapies like in vitro fertilization (I.V.F.) are gaining in popularity, but many stigmas and misunderstandings persist. As recently as Dec. 2015, a new study by the Journal of the American Medical Association revealed fresh insights about the I.V.F process.
In One Mother's Journey: Creating My Family Through In Vitro Fertilization, author Jennifer Prudenti writes candidly about her path to motherhood in the hopes that it will dispel myths and empower other women. Including passages from her husband Marty's perspective as well, the book is a story of determination, perseverance and faith.
"I want to help women who are embarking on this emotional journey to know that they are not alone," Prudenti said of her pregnancy. "I want to talk about my experience; share my struggles, my fears, my insecurities, all of it."
During the I.V.F. process, Prudenti says she remembers seeing dozens of women sitting together in a waiting room and not saying a word to each other, as if they were embarrassed to be there. At the time there were no real support systems in place, according to Prudenti, who felt isolated. It was there in the waiting room that she was inspired to write a book about her journey to help women feel more connected during this emotionally taxing process.
"Through my experience and my honest retelling, I hope to change the stigma associated with I.V.F. and start an open and honest dialog about it," Prudenti said. "My hope is that by relaying intimate details that people generally do not share, couples can prepare themselves for the demands that this journey will elicit from them should they decide to take this route."
One Mother's Journey: Creating My Family Through In Vitro Fertilization
By Jennifer Prudenti
ISBN: 978-1-4908-8397-7
Available in softcover, hardcover, e-book
Available on Amazon, Barnes & Noble and Westbow Press
About the author
Jennifer Prudenti is an entrepreneur whose passion lies in helping people, particularly women. She lives in Albertson, N.Y., with her husband, Marty, their children, Sophia and Michael, and the family cats, Smudgie and Sabrina. She is a mother, daughter, wife, friend and coworker. She is just like you, and her story could be anyone's.
# # #
For review copies or interview requests, contact:
Liz Mensching
317.602.7137
lmensching(at)bohlsengroup(dot)com