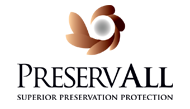 Branchburg, NJ (PRWEB) January 11, 2016
PreservALL representatives have announced that the company has released three new storage products.
"I'm excited to let you know that our gun bags, wedding dress bags and document bags are now available in our online store," said company partner Chris Della Valle. "These products will ensure your most treasured items remain in pristine condition for years to come."
PreserVALL uses Intercept Technology™, which does not leave deposits on the items it protects. Intercept is not volatile, making it environmentally friendly. Without releasing any toxins, it absorbs and neutralizes corrosives that break down materials.
"A wedding dress represents a true milestone in a woman's life," continued Chris. "It's more than just about protecting that garment. It's about protecting the memory of a very special day. The same goes for guns. Many people are gifted rare and expensive guns that have been in the family for decades and may even have historical significance. In protecting these guns, they preserve a piece of history."
Documents can be notoriously difficult to protect, especially older, fragile ones; but not for PreservALL. "Our document preservation bags protect everything from books and periodicals to the most fragile stamps and older sheets of paper," Chris said. "They can also be used for photos and keepsakes, like your child's first drawing. If you have a document of unusual size, contact us about our custom document bags."
"In the past, going to a specialty shop to have your treasured memories preserved could cost you hundreds of dollars, but thanks to PreservALL's Intercept Technology and online store, the company is able to pass significant savings on to their clients. Garment protection bags are as low as $74.95 while document pouches can be purchased for less than $10," continued Valle.
For more information, visit preservall.com/Wedding-Dress-Garment-Bag, preservall.com/Garment-Protection, and preservall.com/Firearms
About PreservAll
We offer preservation and corrosion prevention packaging and storage products for garments, firearms, documents, quilts/tapestries, hunting and camping equipment, coins, antiques and collectables. Our products use Intercept Technology™, an environmentally friendly technology that does not coat items or leave detectable deposits on the items it protects. Intercept is not a VCI (volatile corrosion inhibitor). Intercept is a reactive technology unlike other products that work passively. Intercept absorbs and neutralizes corrosive gasses that lead to the corrosion and breakdown of materials such as fabrics, ferrous and non-ferrous metals, stamps, comic books, documents and anything else affected by atmospheric degradation.
Contact Details:
Mr. Chris Della Valle
600 Kenrick Dr., Suite C-40
Houston, TX 77060
Ph: (713) 822-9040
Fax: 908-526-0007
Source: PreservAll
###