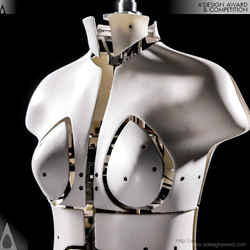 Como, Italy (PRWEB) January 11, 2016
A' Design Award and Competition is pleased to announce that the design project i.Dummy by Winswin Ltd has been announced as a winner of the Golden A' Design Award in Engineering Design Competition Category.
About i.Dummy
Winswin Ltd, the lead designer of the award winning Engineering work i.Dummy demonstrated "The i.Dummy project was conceived 5 years ago by Dr. Allan C.K.Chan of the Institute of Textiles & Clothing, The Hong Kong Polytechnic University. This was done as dummies are vitally used in the fashion industry for design and fitting and they are often available in single size and shape. Even when they are billed as a certain size, their shape and physical profiles can be variedly different. Coupled with various differences of many ethnicities, the finding of a dummy that can adequately represent the "person" has remains difficult." Learn more about the award winning design: https://competition.adesignaward.com/design.php?ID=36778
Design Team for i. Dummy
i. Dummy was designed by The designer/inventor: Dr. Allan C.K. Chan. , The designer/inventor(mechatronics): Dr. Steven Peng , The designer/inventor(software advice) : Dr. A. Luximon , General Manager: Ms. Kylie Chan, Project Manager: Mr. Gordon Wong, and Mechanical Engineer: Mr. Simon Wong
The Golden A' Design Award
The Golden A' Design Award for Good Engineering Design is an internationally recognized, prestigious accolade given to top 3% designs that demonstrate exceptional design qualities. Entries to the A' Engineering Design Award are peer reviewed and anonymously judged by an expert jury panel composed of press members, design professionals as well as scholars. Laureates of the A' Design Award & Competition are provided the coveted A' Design Prize which not only includes the award trophy, yearbook, certificate but also exclusive PR and marketing services such as invitation to a glamorous gala-night and award ceremony in Italy, participation to international exhibitions, inclusion in Salone del Designer and World Design Rankings as well as networking and publicity through prime clubs.
About A' Design Award & Competition
The International A' Design Award and Competition was established to recognize and promote excellent design work in order to create a global understanding and appreciation for good design practices and principles. The A' Design Awards aims to push designers, architects, brands and product manufacturers worldwide to come up with superior products and projects that benefit society. Learn more about the A' Design Award and Competition at http://www.designaward.com