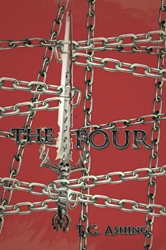 The book really shows a side of my mind that I don't express in everyday life.
MONROE, La. (PRWEB) January 11, 2016
National Guard member T.C. Ashing is a loving husband, new father, and proud American. He is currently deployed in the Middle East. One might think all of that is enough to keep him busy, but like so many military men and women, there is more to him than what is on the surface: T.C. Ashing is also a thriller author.
While deployed in Afghanistan in 2011, Ashing penned the rough draft of his first novel "The Four." Packed full of gruesome details, mystery, and themes of religious fanaticism and the dark side of wealth, the book is full of tragedy and bloodshed.
"I've always been fascinated by darker themed stories," Ashing said. "The book really shows a side of my mind that I don't express in everyday life. It was fun to explore that while authoring something that will be enjoyable to readers."
Ashing didn't grow up wealthy and had a rough start in life before joining the National Guard in 2009. With a daughter less than a year old, he is now on his second deployment and sees writing fiction as a positive outlet that he hopes will help support his family and bring enjoyment to the masses.
"My life experiences have definitely influenced my writing, and I'm sure they'll continue to do so," Ashing said. "I don't hold back in my writing, and that will resonate with readers."
The Four
By T.C. Ashing
ISBN: 978-1-5035-6124-3
Available in softcover, hardcover, e-book
Available on Amazon, Barnes & Noble and Xlibris
About the author
Thomas Charles (T.C.) Ashing started writing at a young age. In 2009, he joined the National Guard and is currently on his second deployment to the Middle East. He resides in Monroe, La., with his wife and daughter. "The Four" is his first novel.
# # #
**FOR IMMEDIATE RELEASE**
For review copies or interview requests, contact:
Jessie Hansell
317.514.1318
jhansell(at)bohlsengroup.com