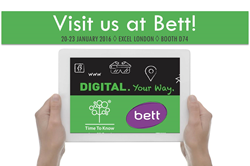 Digital Your Way
New York, New York (PRWEB UK) 16 January 2016
Time To Know, a leader in the Ed-Tech industry, provides cutting-edge solutions to a wide range of sectors from primary and secondary schools, higher-ed, further education, and corporate. Exhibiting at stand D74, the company will host live demonstrations for optimized teaching and learning outcomes. Solutions presented are tailored to meet customers anywhere in their digital life cycle and address their unique needs.
The company's robust authoring environment, CreateTM, enables the easy creation of engaging digital content. Users can produce "born digital" content from scratch, shortening production time and efforts. In addition, use the company's BookAliveTM tool to simply enrich existing digital content in any format and add engaging digital layers. With BookAliveTM, there's no delay when going digital — play your content instantly.
The company will also present TeachTM, the leading data-driven real-time classroom monitoring and management solution for in-class and blended learning. TeachTM offers educators powerful digital teaching tools with the flexibility to customize content to create meaningful learning experiences. Successfully implemented across five continents, Teach TM has proven pedagogical results.
For self-paced e-learning at home or anywhere, Time To Know offers DirectTM — the top solution for individualized learning. Perfect for tutors and parents, and more.
For colleges, universities, and further education, Time To Know offers a cutting-edge Learning Management System (LMS), Connect TM. It is the utmost flexible, scalable, and localized solution available that transforms your program into a dynamic engine for learning.
"With over a decade in the industry, Time To Know is a true pioneer in Ed-Tech. With strong pedagogical and technological expertise, we're committed to transforming the way the world learns." – said Yair Brosh, CEO at Time To Know. "Time To Know continuously advances its solutions to set new industry standards."