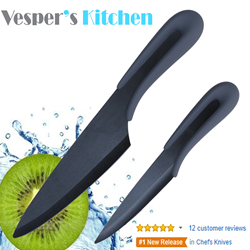 Amazon #1 new release
Dallas, Texas (PRWEB) January 11, 2016
Vesper's Kitchen announces the release of their new ceramic knife set now available on amazon.
Vesper's Kitchen CEO said, "We are thrilled with the 5 star reception of our latest product. This is our most exciting product launches yet. We are extremely proud of this ceramic knife set, as the quality is second to none."
Ceramic knives have quickly become a must have for every kitchen. They are made from a super hard material second only to diamonds. This means they can be ground to a razor sharp edge and they will hold that edge for years without re-sharpening. This knife set comes with protective sheaths so the knives can be stored safely without requiring a knife block.
The set includes two ceramic knives with designer U shaped ergonomic handles. The first knife in the set is a 6 inch chef knife perfect for slicing and dicing. The second knife in the set is a 4 inch paring knife perfect for smaller tasks.
The new knife set comes in two color choices, brilliant white with a blue handle and sleek black with a charcoal grey handle. The set comes beautifully and securely packaged in an attractive black box with a magnetic closure.
As with all Vesper's Kitchen products, this new ceramic knife set is backed with a 100% money back guarantee.