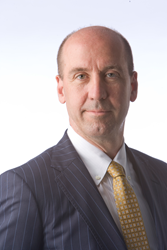 The net effect constant change is "answers" about the future are decreasing in value, which, paradoxically, places greater emphasis on the need to ask better questions.
Fort Worth, TX (PRWEB) January 14, 2016
Futurist Jack Uldrich has been confirmed to deliver his latest keynote, "Embracing Change & Creating the Future" to the Farm Credit Bank of Texas in Fort Worth,TX today, and in Hilton Head, SC on March 3.
Uldrich says, "Today, the greatest change is the rate of change itself. Put another way, society is transitioning to a period of constant transition. The net effect is that "answers" about the future are decreasing in value. This reality is, paradoxically, placing greater emphasis on the need to ask better questions."
Over the past year, Uldrich's work as a professional futurist has continued to evolve. In 2016 he aims to hone in on the need for intellectual humility; and intends to spend extra time helping clients, like Farm Credit Bank of Texas, reframe old questions, encourage them to ask new ones.
Uldrich says in his article, A Futurist's Top 5 Books of 2015 his own personal reading and development of new questions "Improves his ability to forecast."
In this latest thought-provoking and practical presentation Uldrich will share with his audiences how the art and science of framing and asking better questions will, "not only help individuals and organizations survive tomorrow's rapidly changing environment, but it will help them thrive by providing the key insights necessary for confidently creating their own future."
A a renowned global futurist and the author of ten books, including the award-winning bestsellers –"The Next Big Thing is Really Small: How Nanotechnology Will Change the Future of Your Business," and "Jump the Curve: 50 Strategies to Help You Company Stay Ahead of Emerging Technology."
Uldrich is also a regular contributor on emerging technologies and future trends for a number of publications, including The Wall Street Journal, Leader to Leader, The Futurist, BusinessWeek, The Scientist, CityBusiness, The Futures Research Quarterly, and TechStation Central. His clients include Fortune 100 companies, venture capital firms, and state and regional governments.
In 2015 he delivered keynotes and strategic planning sessions for Banamex, Global Atlantic, TD Banks in the US and Canada, Invesco, University of Wisconsin Graduate School of Banking, Thrivent, Coulee Bank, Signal Hills, Stockbridge Questar Capital and Farm Credit Bank of Texas, among others.
Parties interested in learning more about Jack Uldrich, his books, his daily blog, or his speaking availability are encouraged to contact him here.