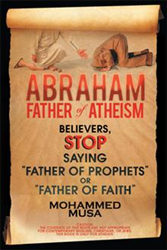 "An extended diatribe against the organized religions as well as atheism" "a provocative work that challenges the religious status quo"
(PRWEB) April 18, 2016
After publishing Abraham: Father of Atheism, which has been described as "An often cutting work that calls a plague on the houses of all domineering belief systems" by Kirkus Reviews and "a provocative work that challenges the religious status quo" by Foreword Reviews, Musa remains loyal to his dream of dividing atheism into two categories and bringing Abraham back to life in a form of a social movement.
Although what is written on the pages and in the blog of the website may not be to the liking of Muslims, Christians, and Jews, Musa says all three are welcome to join the new social movement in case they believe there is a problem in the teachings of their pastors, imams, and rabbis. "With all respect to Moses, the Creator`s son – Jesus – and Muhammad, I believe it is time to replace Judaism, Christianity, and Islam because they have become the religions in which what matters is the numerical quantity of gods, rather than the moral or social quality of gods," Musa states.
On visiting the website, visitors will notice that it has not been created solely to promote the book. The website has also been created to expand on the topics discussed in the book, and to comment on current events and updates.
Musa says, "Commentary on current events is important not only because it is an essential part of my plan to destroy the ego of the members of the spiritual community (i.e. the imams in Islam, pastors in Christianity, rabbis in Judaism,) but also because this will help solve problematic situations. For example, I have written a post in which I offered Donald Trump and the Representatives of the United States a viable solution that can protect America from terrorist attacks. I advise people, especially the citizens of the US, to visit the website and read that post. Readers of the post will find out what the 'never-noticed' similarity is between Jesus, a god's son, and the Quran, a god's book, in terms of the questions evoked."
Unlike other websites where these intellectual or religious groups have no interest other than to sanctify themselves while demonizing others, Musa's website is a platform where Muslims, Christians, Jews, and Darwinian atheists can mingle together without being segregated. "Answering the question 'why did they forget the story of Abraham is a story of a man who socially criticized the Creator?' is not important. How to rehabilitate Muslims, Christians, Jews, and Darwinian atheists, however, is what truly matters, while we are reading books with weird titles written by out of touch scientists, while we are watching planes flying into buildings, while we are watching soldiers travelling long distances to spread the freedom of the Almighty, and while we are watching Egyptians cheering after they were told that the angel Gabriel had prayed in one of Cairo's mosques. The list of mind-blowing events and stories is endless, believe me," Musa explains.
Viewed by some as a challenging, sarcastic, and inciting writer, Musa expects to receive many questions from visitors to his website, so he has created a Q&A page to accommodate this. "Feel free, dear visitors, to ask any questions you have, and do not hesitate to comment on any post, but try to do that after reading the book," Musa says.
About Mohammad Musa
An author and blogger.