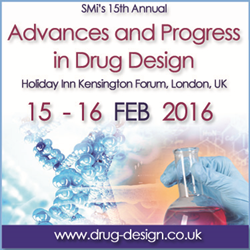 ''Computational and biophysical tools are becoming more efficient and reliable. We must better explore, and exploit, the chemical space''. Dr Xavier Barril, Barcelona University
London, UK (PRWEB UK) 12 January 2016
SMi's 15th annual Advances and Progress in Drug Design Conference and Exhibition will take place in London, UK, on the 15th and 16th of February 2016. This international conference will provide an exclusive opportunity to gain new insight on small molecule-protein fragments, IMI Open PHACTS project for data mining work flows, and structure-based models combining hit finding strategies of fragment leads.
To register or to find further information on the full agenda, please visit http://www.drug-design.co.uk
In the run up to the conference, SMi Group interviewed workshop leader Dr Xavier Barril, ICREA Research Professor, School of Pharmacy, Barcelona University, who will be presenting at the post-conference workshop entitled "A Fresh View on Molecular Recognition:
The Dynamic Perspective". Dr Xavier's workshop sessions will cover the following topics:

Kinetics vs thermodynamics: a question of perspective
Water molecules and binding hot spot
Practical aspects of MD simulations
Here is a snapshot of the pre-conference interview with Dr Xavier:
"SMi: What new developments do you envision for 2016 in the field of focused chemical library designs and enrichment, and integrative biophysical tools?
X.B.: Integration is the key. Computational and biophysical tools are becoming more efficient and reliable. We must better explore, and exploit, the chemical space. Big data and machine learning methods are a great complement to the more physics-based approaches."
The interview will cover Dr Xavier's current role; challenges in the field; the current trends and future outlook of biophysical tools and much more. To download the full interview please visit the downloads tab at http://www.drug-design.co.uk
As well as supplying attendees with the latest information on advances and progress in drug design, the 2016 show will gather leading industry experts presenting exclusive case studies, panel discussions and 2 interactive workshops over 3 full days!
For sponsorship enquiries, contact Alia Malick at +44 (0) 7827 6168 or email amalick(at)smi-online.co.uk
For media enquiries contact Anna Serazetdinova on +44 (0) 20 7827 6180 or email aserazetdinova(at)smi-online.co.uk
For delegate enquires or to register contact Matthew Apps on +44 (0) 20 7827 6093 or email mapps(at)smi-online.co.uk
15th annual Advances and Progress in Drug Design Conference
15th – 16th February 2016
London, UK
Contact e-mail: mapps(at)smi-online.co.uk
Contact number: Matthew Apps +44 (0) 20 7827 6093
Event Website: http://www.drug-design.co.uk
------------------------- END OF PRESS RELEASE--------------------------
About SMi Group:
Established since 1993, the SMi Group is a global event-production company that specializes in Business-to-Business Conferences, Workshops, Masterclasses and online Communities. We create and deliver events in the Defence, Security, Energy, Utilities, Finance and Pharmaceutical industries. We pride ourselves on having access to the worlds most forward thinking opinion leaders and visionaries, allowing us to bring our communities together to Learn, Engage, Share and Network. More information can be found at http://www.smi-online.co.uk