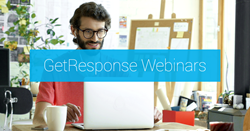 The addition of webinars equips our customers with an integrated solution for generating leads, engaging audiences, and monetizing their offers.
Wilmington, Del. (PRWEB) January 13, 2016
GetResponse, the leading email marketing SaaS platform, has integrated webinars into its powerful set of email marketing and marketing automation features. The enhancement is designed to support the widespread use of webinar marketing and make it more convenient and affordable.
"Until recently, GetResponse focused on offering innovative tools for email marketing and list building," said Simon Grabowski, GetResponse Founder and CEO. "The addition of webinars equips our customers with an integrated solution for generating leads, engaging audiences, and monetizing their offers."
ABOUT GETRESPONSE WEBINARS
The new webinar feature gives marketers powerful new ways to connect and engage with their audience. The solution includes registration landing pages for capturing leads and nurturing them with automated invites and reminders. Organizers can create online meeting rooms where up to four presenters can share content using various built-in tools, including a slideshow presenter, digital whiteboard, image gallery, and YouTube player. Presenters can upload a wide variety of documents for review, markup, and collaboration.
The system includes a state-of-the-art screen-sharing engine, instant online polling, and open or moderated chat translated into 52 languages. Thanks to the recording feature, presenters can share their exclusive webinar content with attendants, or with the entire world – whichever best fits their business strategy.
ABOUT WEBINAR MARKETING
With the addition of webinars, GetResponse is now positioned to serve a broader spectrum of online marketers:

Online coaches can use webinars to build their personal brand with complete training programs, all on one platform.
Small and medium-sized businesses (SMB) can use a complete, low-cost solution to add a face to their business, engage leads with exclusive content, and grow their customer base.
SaaS and start-up businesses can get customers involved using powerful tools for demos and onboarding.
Online marketers can develop new ways to engage with their audience, get qualified leads, and monetize content.
"Our top priority has always been to keep up with the needs of our customers and provide solutions that support their goals," said Simon Grabowski. "Webinars add a powerful new dimension to their marketing capabilities, at a price that's affordable for companies of any size."
PACKAGE PRICING
For just $49 per month, customers get an entire lead generation package including webinars, email marketing, analytics, autoresponders 2.0, landing pages, and web form builder. This comprehensive package is the most attractive offer currently on the market, giving customers a complete set of tools on one platform, without the need to buy and maintain multiple systems at higher cost:
1. Saves time by offering all tools in one place, so users don't need various solutions to integrate their marketing efforts.
2. Saves money by offering an all-in-one system at a price not available anywhere else in the marketplace — bought separately, comparable tools would be an average of 150% more expensive.
3. Gives users the power to be self-sufficient in their marketing activities.
ABOUT THE COMPANY
GetResponse serves more than 350,000 active users from 182 countries, delivering more than 1 billion permission-based emails per month, with an average deliverability rate greater than 99.5 percent. Clients include Marriott, Intercontinental, University of Arkansas, Carrefour, Men's Health Magazine, AVON, and thousands of fast-growing businesses and professional firms. For more information, visit http://www.getresponse.com.