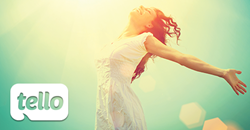 Atlanta, Georgia (PRWEB) January 13, 2016
The Cellular Telecommunications & Internet Association (CTIA) lists approximately 30 facilities-based wireless service providers in the United States as members. Competitive Carriers Association (CCA) has over 100 members. Besides the facilities-based providers, there are more than 50 virtual operators that use the top four networks to provide the service. So, is there any room left for another player?
Tello, the newest wireless network in the US, not only says that there's room left, but that the market needs it. The customers need an online mobile provider, with a great customer service answering any call in less than 5 seconds, instead of waiting hours in a store where the mobile network representative will make them believe they need help even for activating the SIM. And, on top of that, they pay countless fees and sign endless T&C novels, sealing their fate for two years.
Need more reasons?

Tello.com allows customers to build their own plans, depending on the number of minutes, texts and data they actually use.
Customers are free to stay as long as they want, as they don't have to sign any contract.
No ring time charges. Why pay while waiting? With Tello, the minute counter starts only when the conversation starts.
Customer can share data free of charge with their friends or with other devices. So, yes, tethering is available.
Tello.com was designed as an alternative to everything Americans complain about when it comes to mobile providers:

Big operators don't allow their customers to change their plans monthly, in case their needs change;
Big operators charge activation fees, upgrade fees, termination fees, access fees, waiting fees… Does that seem right?
Big operators don't let customers share data free of charge with their friends or with their other devices.
That's why Tello launched a mobile service tailored to customers' lifestyles. Do they need 100 or 500 minutes to chat with their moms? And what about international minutes to call their amigos in Mexico? Maybe they prefer only data for all those apps. They know best, and Tello offers them control.
So americans are invited to join Tello and enjoy the benefits of a mobile service tailored to their needs. For updates, customers are invited to follow Tello.com FB, Twitter and G+ pages.
About tello.com
Tello.com is telecom provider newly launched on the US market. The company behind Tello is present on the UK market since 2014 serving customers through its Tello.co.uk website.
Both Tello.com & Tello.co.uk were designed by KeepCalling, a global telecommunications company registered in 2002 in USA. Presently, KeepCalling provides its services to hundreds of thousands of consumers and businesses, with a focus on customer satisfaction. KeepCalling has been listed by Inc 5000 as one of the fastest growing companies in the USA for 5 consecutive years. In 2015 the company registered a revenue increase of over 200% from 2011 to 2014.