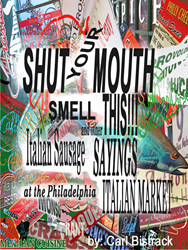 Philly Italian Market dodge-em, pushy, Alice's Wonderland curiouser place. No cookbook or TV show can explain. Smell, salivate, taste it. PhotoArt recipes like never smelled before. Shut your mouth! right at you. Philly Steak wit or witout. No apologies.
Wilmington, NC (PRWEB) January 13, 2016
Carl Bistrack announces the publication of his eBook "Shut Your Mouth! Smell This! And Other Italian Sausage Sayings at the Philadelphia Italian Market." The opening of the book describes the market: "The Philly Italian Market's a dodge-em, irritating, pushy, Alice's Wonderland curiouser & interestinger fun place. No cookbook or TV show can explain this one. You'll smell, salivate, taste it, with a new dance step added. Photoart textless recipes like you've never smelled before. Italian sausage fruit bowl? A Cheese Wow. A "Shut your mouth!" right at you. Pasta music. Philly Steak wit or witout. No apologies. An edible history."
Until 2014, Carl lived and worked in the Philadelphia area and ran his own film and media production company Film Flair for many years, Next, he sold an ergonomic pen he designed and patented to reduce writing pressure and hand stresses.
But he missed being away from the visual arts. He took up photography using the newer digital photo technology and developed a style that became a combination of photos and art style. A composite photo art journalistic piece, "Halloween Hurricane Sandy Flood Ebb" based on 2013 North Jersey Atlantic Ocean shore flood, earned him a 6th place award in the national Maryland Federation of Art yearly juried US Landscape exhibition out of 707 entrants. That put him on a photo-art technique path.
Carl's earlier film production travel exposed him to a wide range of foods throughout the US. That led to cooking as a hobby. As a Philadelphian, he would sometimes visit the Italian Market to find and buy ingredients as well as gather information for the next cooking adventure. And, that led to the Italian market book.
Combining photo-art and cooking, Carl created a book that shows the unique market in its own way. The questions existed: How do you reveal and explain a market like this with its centuries old Italian, naturally cured ingredients in a book? There have been a number of travelogues, yearly press articles, commercial books, and Italian markets recipe cook books. Those photos used in the various media were as expected and repetitious. But, "Shut our Mouth! Smell This!..." is unlike the others. It reveals the uniqueness of adventuring through the market and expresses it visually in an artistic, theatrical, and journalistic way.
In 2014 he worked on photographing the market and completing some of the visuals over the year. That was briefly interrupted for several months. During 2014 he decided he wanted to move to Wilmington, NC, a warmer climate closer to the Atlantic Ocean. There was a brief moving and swimming vacation from writing the book. It then took another year. He worked on the book and transferred the notes he kept on each visit of each area, the stores and products. The title "Shut Your Mouth…" came from notes on a customer and store owner in a rousing, fun conversation in one of the stores. The photo-art pieces had to be arranged in a logical order. They may or may not illustrate specifics. Unlike more standard photos, these had to create their own story-within-a-story.
But, there's another story-within-a-story-within-a-story. Can the photo-art pieces hold up in the book? Perhaps it is not a usual path. A writer can be good. A photographer can be good. But some combinations may blend in a recipe with ingredients that excel as never before.
Carl showed some of the photo-art pieces to individuals, art associations and galleries in the Wilmington, NC area to get their feedback on the pieces in general. All results were very positive. Galleries in the area are currently carrying several of the pieces. Clams, a photo-art piece from the book, was chosen for exhibit at the yearly Carolina's Got Art exhibit held in Charlotte, NC, featuring entries from artists in North and South Carolina. From three thousand entries, only 117 (4%) were chosen for the exhibit. Clams was one of them.
The eBook "Shut Your Mouth! Smell This! And Other Italian Sausage Sayings at the Philadelphia Italian Market." is available at all eBook sellers $2.99
For more information Contact:
Carl Bistrack
seabea(at)twc(dot)com
Phn 910-399-4232
Cel 215-301-5674