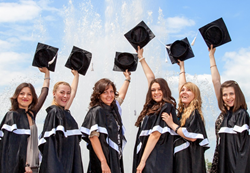 "We want as many people as possible to apply and tell us their goals, their dreams, and how they plan to make an impact in the future." -- Bob Janik, Fountains.com
Houston, Texas (PRWEB) January 12, 2016
In an effort to give back to the community that has supported their business over the years, Fountains.com has launched a generous scholarship program with few application restrictions. In fact, the only real requirement is that applicants must either be in college, or planning to go.
Scholarship candidates may apply by writing an essay or sending a video that explains their educational and career goals. Applicants should also be prepared to explain how they plan to create beneficial changes in their communities in the future, and how the scholarship will help them do that.
"We wanted to make sure that bright, committed students from all walks of life would feel welcome to apply to this scholarship," said Bob Janik, co-owner of Fountains.com. "That's why there are no age requirements, no state or school requirements, and no restrictions as to which major or career path students will pursue in the future. We really want as many people as possible to apply and tell us their goals, their dreams, and how they plan to make an impact in the future."
Fountains.com will be accepting submissions all year long as this is to be an annual scholarship. The deadline to apply for the inaugural 2016 award (applicable to school year 2016-2017) is August 1, 2016.
The Fountains.com team will review all submissions and subsequently select the winner based upon the quality of the submission as well as the candidate's long-term goals. Other factors, such as the amount of creativity displayed in the submission, will be taken into account.
Awards may be used for any expenses related to obtaining a college education at any post-secondary institution, including tuition, books, room, and board. Valid post-secondary institutions include public and private colleges, universities, community colleges, and vocational schools. Students who are already in college must have at least one more year of education to go in order to be eligible for the award. Non-traditional students are also encouraged to apply. Candidates who are not selected in the 2016 year may send a new application for the 2017 year if they wish.
Fountains.com will contact winners directly using the contact information submitted with the scholarship application.
Students may apply by visiting the scholarship web page at http://www.fountains.com/scholarship.
About Fountains.com
Fountains.com is the go-to destination for luxury indoor and outdoor water fountains, providing some of the best additions to both landscapes and interiors. They offer one of the largest selections of garden fountains of any e-commerce store on the Internet. Their mission is to provide great fountains, to great customers, at great prices.
More information can be obtained by contacting:
Bob Janik, Founder, Fountains.com
1-844-251-3407