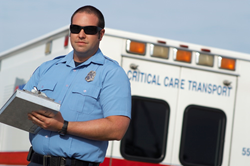 "The New Orleans location will provide local health care professionals with a convenient, centrally-located training facility that addresses the region's growing need for quality AHA and EMS training." -- Robert Chambers, RC Health Services
Houston, Texas (PRWEB) January 12, 2016
Based in the Houston area, RC Health Services will be expanding into the New Orleans market in February, with a new location at 201 Evans Road, Suite 325. RC Health Services is an industry-leading provider of emergency medical training and certification programs, including courses on First Aid, Cardiopulmonary Resuscitation (CPR), Basic Life Support (BLS), Advanced Cardiac Life Support (ACLS), Pediatric Advanced Life Support (PALS) and Emergency Medical Services (EMS).
"With its close proximity to local hospitals, clinics and other health services, the New Orleans location will provide local health care professionals with a convenient, centrally-located training facility that addresses the region's growing need for quality AHA and EMS training in the New Orleans area," said Robert Chambers of RC Health Services. "The location offers easy access for students, plenty of parking and additional options for expansion in the future."
RC Health Services works closely with the American Heart Association to provide courses and curriculum that meet the guidelines for emergency medical care, and each course is taught by industry professionals such as registered nurses, emergency medical technicians or paramedics who have years of experience in the emergency medical field and are dedicated to providing students with the knowledge necessary for quality care in emergency and trauma situations.
The AHA courses offered at the New Orleans location will include a full spectrum of CPR, First Aid, BLS, ACLS, and PALS courses. Classes are offered in online and traditional formats, or a combination thereof. Upon completing an AHA course successfully, students will receive a 2-year certification card. In addition to the basic AHA courses like CPR, the new location also plans to offer both traditional and online EMS training through its EMT and Advanced EMT courses.
With the addition of the New Orleans office, RC Health Services now has eight training facilities with convenient locations throughout Texas, including the Houston, Austin, San Antonio, Fort Worth and Dallas areas, plus Atlanta, Georgia.
To celebrate the grand opening of its newest location, RC Health Services is offering a 5 percent discount on any of its AHA courses for a limited time, simply by registering online and entering the "5OFFJAZZ" coupon code. Clients can also save 5 percent by following RC Health Services on Facebook. These discounts must be applied to a qualifying course within one year.
RC Health services offers quality AHA and EMS training for busy health services professionals. More information about the opportunities available through RC Health Services and its New Orleans facility is available at RCHealthServices.com.
About RC Health Services
RC Health Services is a Houston-based company that provides AHA-approved training and certification in First Aid, CPR, BLS, ACLS and PALS, as well as basic and advanced EMS training. It operates eight training facilities in Texas, Louisiana and Georgia, and it offers online courses that are available nationwide.
Additional information is available by contacting:
RC Health Services
office(at)rchealthservices.com
281-416-5939
rchealthservices.com