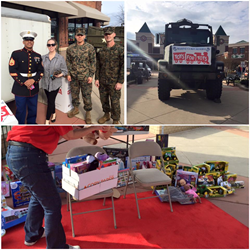 Frederick, Maryland (PRWEB) January 12, 2016
Portner & Shure recently opened a fully-staffed office in Frederick, Maryland. Since Frederick is a very community-based area, Portner & Shure decided to get involved this holiday season. Numerous staff members participated in various events throughout November and December:
On November 28, 2015, several of the staff from Portner & Shure were out shopping to support small businesses throughout Frederick, Maryland. The staff visited shops up and down Market and Patrick Streets, as well as in Everedy Square. Small Business Saturday has become a popular event throughout the country and Portner & Shure employees wanted to spend time getting to know the Frederick community in order to better serve all of our clients in the area. Shopping was definitely a success!
Throughout November and December, Portner & Shure collected toys to be able to donate to Toys for Tots in Frederick. On December 11, 2015, Christiana Rowland, the Frederick Office Manager, presented the toys to many happy children. Portner & Shure was honored to be able to participate in this event and give back to the Frederick community. It was such a rewarding experience seeing the smiles on children's' faces as they received their new toys.
Portner & Shure also participated in providing a Christmas miracle to a well-deserving family in Frederick. The family of four had been going through a rough time and was not going to be able to provide any Christmas presents to their children this year. The mom is disabled and the dad recently lost his job. The staff at Portner & Shure, including the firm's operations manager, Sarah Sadler, and Gloriann Alfonzo, a bilingual Spanish legal assistant, wanted to make sure this family could enjoy their Christmas. Everyone donated various gifts and presents to give to the family. When the family saw the table full of gifts, they were overjoyed and so thankful for our donations. The holidays are supposed to be a happy time of year, and Portner & Shure was thrilled to be able to make this family's Christmas one of their best ever.