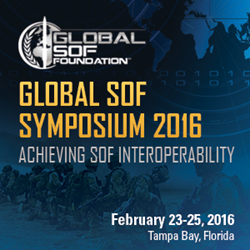 Tampa, Florida (PRWEB) January 19, 2016
The Global SOF Foundation (GSF) announces its second Global SOF Symposium "Achieving SOF Interoperability" Feb. 23-25 at the Innisbrook Resort in Palm Harbor, Florida.
The program features international leaders and speakers from across global special operations, academia and the media. Speakers include special operations commanders from Denmark, Germany, Iraq, Italy, and Spain; Colombian Ambassador to the United States Amb. Juan Carlos Pinzon; and Assistant Secretary of Defense for Special Operations and Low Intensity Conflict, Mr. Michael Lumpkin (who will soon join the US Department of State's recently-announced Global Engagement Center).
The Global SOF Foundation's role is to look to the future and help government, military, industry, academia and media anticipate upcoming global trends and critical issues. It is a 501(c)(3) non-profit organization that advocates for all aspects of Special Operations Forces (SOF) development, employment and sustainment in the fight to defeat globally networked threats. It is the only professional association for the special operations community. The foundation is forging a network among the world's special operations forces with the aim of enhancing government solutions through innovation and interoperability by leveraging SOF's informal network at speeds that traditional governments cannot match.
This year's symposium theme "Achieving SOF Interoperability" was chosen in order to move beyond a conversation on current operations or trends; instead, this thought-leader event aims to identify the challenges that SOF will face in the future as well as the critical ways in which global SOF must interoperate.
The symposium will bring together international leaders in the world of hybrid warfare, counter terrorism, intelligence, industry, academia and the media. The symposium has already attracted participants from 26 countries including Iraq, Afghanistan, Ukraine, Yemen, and Nigeria as well as NATO allies Lithuania, the United Kingdom, and France. Along with keynote addresses given by some of the previously mentioned speakers, the symposium will have breakout sessions covering various topics including Russia's "New Generation Warfare," "Fighting at Night" and current security issues in the South and East China Sea to ensure all attendees will be exposed to conversation and thought producing ideas and opinions, especially views not commonly heard or held by American audiences.
A host of national and international experts will make other important and timely presentations over the course of two days. A few other highlighted speakers are the Vice Minister of Defense for Lithuania Marijus Velička; Peter Bergen, a national security analyst at CNN; and FOX News counter terrorism and intelligence correspondent Catherine Herridge, who will chair a three-member panel of international experts on "Media in Hybrid Warfare".
The foundation will also present awards to Admiral (R) William H. McRaven, chancellor at the University of Texas, and General Sir Adrian Bradshaw, Deputy Supreme Allied Commander NATO, for their work in advancing multinational special operations.
The symposium is open to the media, and the foundation will facilitate requests for interviews. All attendees and speakers are encouraged to speak with media, but the foundation has no ability or authority to require anyone to engage. Media are asked to register at the website http://www.globalsofsymposium.org.
For registration and the full agenda, please visit http://www.globalsofsymposium.org.
Media Contact
COL(R) Tim Nye
813 476 0881
tnye(at)globalsoffoundation(dot)org