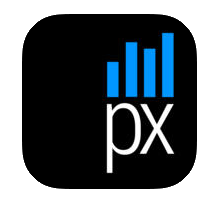 We understand that to truly understand and impact patient experience, hospitals need to look beyond their Top Box scores.
Alpharetta, GA (PRWEB) January 12, 2016
SPH Analytics announced today that its PX Compare™ app for iPhone is now available on the iTunes App Store. PX Compare's mobile-based action analytics allow hospital leaders to view their Net Promoter ScoreSM and Top-Box rating in comparison to up to 6 hospitals of their choosing, as well as to state and national averages. With PX Compare, hospitals can gain a better understanding of their patient experience to guide improvement within the organization and market-facing reporting. A free app, healthcare consumers can also use PX Compare to guide their experience-based choice of hospitals.
PX Compare enables hospitals to visually assess their Net Promoter Score, a measurement used in Fortune 500 companies to gauge customer loyalty data, and data from publicly reported information such as the Hospital Consumer Assessment of Healthcare Providers and Systems (HCAHPS) survey. As part of the Hospital Value-Based Purchasing program, hospitals are reimbursed for quality performance that is measured and reported about the patient's experience of care, making it important for stakeholders to have a clear understanding of performance.
Beyond reimbursement, patient experience is also increasingly important in the consumer-driven healthcare market. Reported information can be used to help hospitals learn more about their reputation in the communities they serve, and about other hospitals that they compete with or may consider for collaboration.
"We've made PX Compare available to help hospitals understand how they are perceived by healthcare consumers in this emerging experience economy," said Al Vega, CEO of SPH Analytics. "As the fourth-largest patient satisfaction measurement firm as ranked by Modern Healthcare, we understand that to truly understand and impact patient experience, hospitals need to look beyond their Top Box scores. PX Compare allows hospitals and other stakeholders to discover and compare their Net Promoter Scores to drive improvement initiatives, which ultimately are reflected in their ratings on HospitalCompare.gov."
PX Compare is available for free download in the iTunes store. More information is available at: http://www.sphanalytics.com/pxcompare/
More information about the Modern Healthcare ranking of largest patient satisfaction measurement firms is available at: http://www.sphanalytics.com/sph-analytics-recognized-among-top-patient-satisfaction-firms
CAHPS is a program and registered trademark of the U.S. Agency for Healthcare Research and Quality.
About SPH Analytics
SPH Analytics (SPHA) is a leader in action analytics, providing best-in-class solutions and transformative technologies for provider, payer, and health networks. By providing powerful applications, analytics, healthcare surveys, call center services, and consulting, SPHA solutions lead the way for the next generation of healthcare. SPHA enables clients to increase member and patient satisfaction, improve population health, drive patient engagement, and reduce overall cost of care. SPHA solutions incorporate an engaging social-media style user experience, optimized for mobility and communication, to measure data, create easy-to-understand analytics, and empower action.
Founded through the merger of Voyance, MDdatacor, Archimedes Clinical Analytics, and The Myers Group, SPH Analytics is based in Alpharetta, GA, with offices in Branford, CT, San Francisco, CA, Nashville, TN, and Duluth, GA. SPH Analytics is a member of the $3 billion Symphony Technology Group. For more information, call 1-866-460-5681 or visit SPHAnalytics.com.