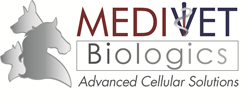 We feel our initial findings in this trial show that vaccine immunotherapy has a place in Veterinary medicine.
Lexington, KY (PRWEB) January 11, 2016
MediVet Biologics, a leader in Veterinary Regenerative Medicine and Biologics Solutions, announced the closing of its Canine Autologous Cancer Vaccine Trial. The trial under the guidance of the USDA, examined in a clinical setting safety and efficacy of an immunotherapy vaccine designed for all resectable canine cancers. A formalized paper will be submitted for peer-reviewed publication later this month.
According to national statistics, cancer occurs in 50% of canine patients over the age of ten. To date, affordable options for general practitioners to offer owners seeking cancer treatment plans for their dogs have been limited.
K9-ACV, a canine autologous (from the patient) cancer vaccine, containing a proprietary adjuvant that stimulates a stronger anti-tumor immune response, provides veterinary practitioners a patient-specific approach to fighting canine cancer. The therapeutic vaccine is prepared in a laboratory setting from the animal's existing tumor and is administered back in a Veterinarian practice in an outpatient setting. The process has been efficiently designed to awaken the patient's immune system toward their own tumor and to minimize adverse risk to the pets.
Based on extensive murine and human studies on the effectiveness of immunotherapy in controlling metastatic cancer, the study was undertaken by Dr. John R. Yannelli & Dr. Donald Cohen, researchers and faculty from the University of Kentucky College of Medicine.
At the close of trial 60 tumors were accepted. Twenty one patients had completed the vaccination schedule and completed evaluation of tumor immune response as of December 31st 2015. 80% of vaccinated patients showed an anti-tumor immune response as measured at the University of Kentucky College of Medicine post vaccine administration. Tumor regression was also reported in a subset of patients suffering from Hemangiosarcoma, Mast Cell tumors among others. Zero adverse events were reported in any patients.
Additionally, each patient's tumor cells are being grown in the lab and characterized to develop master cell banks for second generation allogeneic vaccines. These second generation vaccines will be offered as "off the shelf" immunotherapies for several tumor types. When combined with small molecule inhibitors to reverse suppressive environments in cancer patients, second generation vaccines will offer additional options for various cancers.
Dr. John R. Yannelli, co-inventor of the vaccine said: "Up until now, my entire career has been focused on treating humans with immunotherapy. Since the advent of immunotherapy in the 80s, I have been fortunate to not only develop vaccines but also through my work at the National Cancer Institute and the University of Kentucky actually affect meaningful changes in patients' lives. Through years of laboratory and clinical research and subsequent data analysis, I now see how effective immunotherapy can be. Early on, we wanted to rid the patient of their tumor. We learned that tumor regression does occur in some patients but along with that, in many cases, disease progression can be halted, time to recurrence can be prolonged. It is as if to say cancer can be viewed as a chronic disease. With that in mind, applying the same principles to dogs can result in an improvement in their overall health. When delivered following surgery or when timed with chemotherapy and/or radiation therapy, we can impact their lives in a very meaningful way. We can provide a therapy for the animal which can be delivered in an outpatient setting; a therapy which is very patient friendly for both the animal and their owners."
He continues, "We feel our initial findings in this trial show that vaccine immunotherapy has a place in Veterinary medicine. If we can extend the life of a canine patient with quality, at a price that people can afford we feel as though we can potentially change the way treatment is delivered at the general practice level. Immunotherapy does not take the place of conventional treatments rather offers a new alternative which can enhance results obtained using standard treatment protocols."
Thomas Masterson, Vice President of Business Development said, "Dr. Yannelli and Dr. Cohen have been steadfast in making K9-ACV a reality for canine cancer. We all have been pleased with the response from the market and overall the impact we are having on Veterinary patients with this vaccine. We are equally excited about what we are seeing in the laboratory. The master cell banks are being established and we have a plan to efficiently and affordably bring to market MB-006, a future off the shelf option for cancer. The K9-ACV service is now available in large thanks to our progressive network of Veterinarian customers around the world."
For pet owners & Veterinarians seeking additional information on K9-ACV please email info(at)medivetbiologics(dot)com or contact MediVet Biologics at 1 (800) 365-9168
About MediVet Biologics:
Founded in 2010, MediVet Biologics is a privately held Veterinary Biopharmaceutical company. Since 2010 the company has continued to develop a pipeline of biologic products and services for the general practice Veterinarian. A major advancement in the field of Veterinary Medicine has been ActiStem Therapy which allows Veterinarians to treat patients with activated Adult Stem Cells (ASCs) in a same day setting. In 2015 MediVet Biologics launched K9-ACV or canine autologous cancer vaccine which provides the general practice Veterinarian an immunotherapy option for canine cancer. For more information, contact MediVet Biologics at http://www.medivetbiologics.com