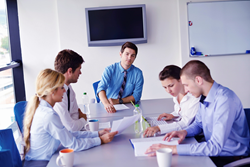 One of the reasons I don't like using digital formats forconference materials is because it is really hard to goback and reference things. I can't tab or bookmarkthe pages the way I can with a printed book.
Madison, WI (PRWEB) January 12, 2016
According to Millennials, print is far from dead. While many young professionals want organizations to offer a choice of both print and digital platforms, most agree that print offers a better learning experience.
Omnipress, provider of content solutions for associations and other organizations, conducted a survey to learn more about young professionals and how they prefer to consume educational content. In this independent survey, 548 people (all 22-33 years old) answered questions about their platform preferences when it comes to reading and retaining new information.
"We have been hearing from clients that their youngest members want all of their educational content online," said Omnipress' CEO, Tracy Gundert. "But we had doubts. Other research we consulted showed that millennials read printed books, sometimes more than other age groups. To learn what young professionals were really thinking, we decided to ask them."
The survey was written by Omnipress, but administered by a third party to people between the ages of 22 and 33. Educational and professional material was the focus of the survey; other types of reading (for information or pleasure, for example) were not addressed.
"Millennials have never known a world without the internet. But those who think that they only want to read online are in for a big surprise," said Vice President of Business Development, Steve Manicor. "Our survey shows that when it comes to educational materials, young professionals are savvy enough to choose which format they prefer based on the situation and the subject matter. Overall, they find it easier to learn from printed materials, especially if the content is complex." Adds Manicor, "It's no longer a debate about print or digital, but instead, how to incorporate the right combination of platforms to facilitate learning objectives."
Some key takeaways from the survey, as shown in the white paper that details the results:
59% of respondents find it easier to learn from printed materials.
58% agree that printed materials are better for reference.
86% agree with this statement: "The world is more connected than ever, but I think there is still a place for printed materials."
68% will "never stop reading printed educational materials."
50% prefer print when reading something the need to learn; just 18% prefer digital content.
55% prefer to consume professional and educational material using combination of print and digital, versus 6% who prefer digital content exclusively
To read the full survey results, Download the Report on Omnipress.com.
About Omnipress
Omnipress makes it easy for associations to collect, produce and distribute print and digital content. Our services include:
--Online Abstract Management
--Digital Publishing Platforms
--Conference Printing
--Event Content Websites
--Mobile Event Apps
--Poster Print, Fulfillment, and Online Access
--DVD and USB Production
--Print-On-Demand and Order Fulfillment for Continuing Education Training