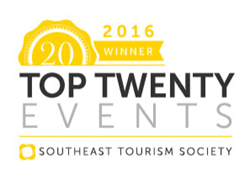 Atlanta, Ga. (PRWEB) January 13, 2016
The Southeast Tourism Society has named Henderson Kentucky's W.C. Handy Blues and Barbeque Festival one of the STS Top 20 Event in the Southeast for June 2015.
This year's W.C. Handy Fest is June 15-18. The STS Top 20 Festival and Event Awards have highlighted programs around the Southeast since 1985.
Travel industry experts select 20 events per month, and STS publicizes them throughout the United States. The complete list is published on two websites: EscapeToTheSoutheast.com and Travel Media Press Room.
The W.C. Handy Fest celebrates the life and music of former resident, W.C. Handy, at this free music festival, which showcases some of the nation's best blues artists. Enjoy live music in the park, delicious barbecue and other festival food throughout the event. Festival information can be accessed at http://www.handyblues.org or by calling 270-826-3128.
"The Southeast Tourism Society's Top 20 Festival and Event list is an excellent guide for the Southeast's visitors and residents. Events selected represent the best, and often most unique, activities in our region," said Bill Hardman, president and CEO of the Southeast Tourism Society.
Events considered for the STS Top 20 recognition must be at least three years old and have attendance of at least 1,000. Nomination forms and deadlines are available at SoutheastTourism.org or by calling 770-542-1523.
STS, founded in 1983 and headquartered in Atlanta, Ga., is a non-profit organization dedicated to promoting tourism to and within 12 states – Alabama, Arkansas, Florida, Georgia, Kentucky, Louisiana, Mississippi, North Carolina, South Carolina, Tennessee, Virginia and West Virginia.