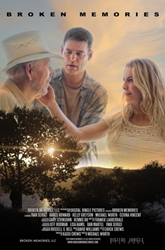 'Broken Memories' shows caregivers that they are not alone in this struggle.
Silver Spring, MD (PRWEB) January 11, 2016
The Senior Zone Radio Show is partnering with Broken Memories, LLC to host a special screening of the feature film "Broken Memories" on January 25, 2016 at the AFI Silver Theatre and Cultural Center in Silver Spring, MD. The invite-only event will welcome Washington metro area senior citizens and their caregivers. The event will include a live radio broadcast of The Senior Zone on location with the film's star, Rance Howard (father of famed director, Ron Howard). Sponsors of the event include; Alzheimer's Association National Capital Area Chapter, Compassion & Choices, MedStar Medicare Choice, Montgomery County Recreation and Right at Home.
"Broken Memories" is a moving dramatic film dealing with the stress inflicted on an estranged family trying to care for their aging father suffering from Alzheimer's disease. The feature film stars Ivan Sergei, Rance Howard, Kelly Greyson and Cerina Vincent. "Broken Memories" is written by Frankie Lauderdale, directed by Michael Worth and produced by Kassi Crews through Broken Memories, LLC, in association with Digital Jungle Pictures. Gary Levinsohn and Dennis Ho are executive producers.
"Nearly 40 million Americans served as caregiver to an adult in the last year. It is job done out of love and respect that comes with overwhelming stress and anxiety, sometimes with very little appreciation," says "Broken Memories" producer Kassi Crews. "This is our way of saying thanks to those caregivers and telling them that they are appreciated."
"Alzheimer's disease is a terrible thing to watch happen and understandably people do not like to talk about it," says The Senior Zone host and founder Shawn Perry. "This movie shows how this disease puts pressure on the whole family. I think 'Broken Memories' shows caregivers that they are not alone in this struggle. There is a real comfort to that."
"It's often said that television and movies mirror what's on our minds and in our lives," said Chris Broullire, President and CEO of the Alzheimer's Association National Capital Area Chapter. "We are deeply grateful to the producers, director and cast of 'Broken Memories' for sharing this touching story of a family facing the daily challenges of caring for a loved one with Alzheimer's. It recognizes and honors all caregivers who strive to give those they love with Alzheimer's the ability to live as full and meaningful a life as possible."
Story
"Broken Memories" is a poignant drama that depicts the often-untold story of a caretaker for the elderly. Once estranged from his family, Levi (Ivan Sergei), has returned home to care for Jasper (Rance Howard), his father who suffers from Alzheimer's. Committed to preserving his father's independence and dignity, Levi sets aside their issues and runs the family farm with little help from his sister, Sara (Cerina Vincent). After Jasper wanders off one too many times, Levi resigns to hire a beautiful and somewhat mysterious caretaker named Maggie (Kelly Greyson). Her patience and warmth begins to rebuild the bridge between father and son as the old house begins to resemble a home once again. Unfortunately, Maggie has her own turbulent past that eventually catches up with her and changes everything in a burst of violence.
About The Senior Zone Radio Show
The Senior Zone, since 2012, serves as a forum of connection and inspiring possibilities for older adults seeking useful and relevant information, encouragement or guidance. Uniting seniors, age 50+, with tips and directions to senior programs and services, tools and resources, events, advice and cultural tidbits, The Senior Zone serves as an invaluable and versatile resource each Monday morning at 10:00am EST on WYCB, 1340AM. To contact, go to http://www.theseniorzone.com or call 800-217-1984.
About Alzheimer's Association National Capital Area Chapter
The Alzheimer's Association is the leading voluntary health organization in Alzheimer's care, support and research. The mission is to eliminate Alzheimer's disease through the advancement of research, to provide and enhance care and support for all affected, and to reduce the risk of dementia through the promotion of brain health. The vision is a world without Alzheimer's. Their 24/7 helpline number is 800.272.3900. For more information go to alz.org or visit the National Capital Area Chapter web site at alz.org/nca.
About Compassion & Choices
Compassion & Choices is the leading nonprofit organization working to improve care and expand choice at the end-of-life. For more than 30 years, they have increased people's quality of life and given them added peace of mind in their final days — even when injury or illness takes their voice. They work to change attitudes, practices and policies so that everyone can access the information and options they need to have more control and comfort in their final days. For more information go to http://www.compassionandchoices.org.
About MedStar Medicare Choice
MedStar Medicare Choice is a plan led by the doctors and nurses you already know and trust. Doctors connecting with patients—it's a simple idea. Regular time with your doctor can have a huge impact on the health of you and your family. MedStar Medicare Choice makes getting care simpler for you. The plan gives you access to the quality, service, and value of MedStar and partners. http://www.MedstarMedicareChoice.com
About Montgomery County Recreation
The mission of Montgomery County Recreation is to provide high quality, diverse, and accessible programs, services and facilities that enhance the quality of life for all ages, cultures, and abilities. The Seniors Team of Montgomery County is hosting the initiative with Shememe Williams, Director of White Oak senior center as lead. Learn more at http://www.MontgomeryCountyMD.gov/rec
About Right at Home
Founded in 1995, Right at Home offers in-home companionship and personal care and assistance to seniors and disabled adults who want to continue to live independently. Right at Home offices are independently owned and operated and directly employ and supervise all caregiving staff, each of whom is thoroughly screened, trained, and bonded/insured prior to entering a client's home. The Annapolis, Rockville and Upper Marlboro locations of Right at Home are locally owned and operated franchise offices of Right at Home, Inc., serving the communities of Anne Arundel, Montgomery and Prince George's counties in Maryland. For more information, contact Right at Home at http://www.rightathomemd.net, 301.255.0066, 410.846.0141, or by email at info(at)rightathomemd(dot)net.