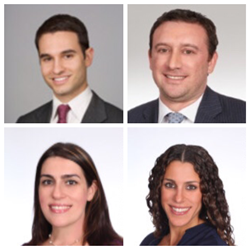 New York, NY (PRWEB) January 12, 2016
Tannenbaum Helpern is proud to announce that Jason Klimpl, Joshua Levy and Maryann Stallone have been elected to partnership in the Firm and Oreen Ead has been named Counsel.
Jason Klimpl is an employment law attorney in Tannenbaum Helpern's Employment Law practice. He advises businesses on employment matters such as wage and hour compliance, EEOC issues, employment agreements, restrictive covenants, healthcare reform implementation, independent contractor classification, workforce reduction, social media and technology usage, human resource policies and much more. A frequent speaker on employment and staffing issues, Jason serves as Associate General Counsel of New York Staffing Association and has been selected as a Rising Star by Super Lawyers for 2013, 2014 and 2015.
Joshua Levy is a construction and environmental attorney in Tannenbaum Helpern's Real Estate, Construction and Environmental Law practice. He advises property owners, developers, lenders, contractors, architects and professionals on various contractual relationships on small- to large-scale construction projects from inception to completion, for both private and public projects. Josh is also well-versed with environmental, land use and renewable energy issues throughout the country. His environmental experience deals with contaminated properties, water and wetland issues, land use matters, renewable energy and green building projects, National Environmental Policy Act issues and environmental regulatory matters. Before his legal career, Josh was a wildlife and wetland biologist and a National Environmental Policy Act Specialist with the US Army. Josh has been selected as a Rising Star by Super Lawyers for 2014 and 2015.
Maryann Stallone is a commercial litigator in Tannenbaum Helpern's Litigation & Dispute Resolution practice. She advises clients on complex business disputes in the state and federal courts of New York, arbitrations and alternate dispute resolution forums. Maryann has handled cases involving securities fraud, breach of contract and business torts, including unfair competition, employment discrimination, infringement of intellectual property and professional malpractice. She has served clients in the hedge fund, private equity, REIT, law firm, accounting, dental, media and staffing industries. Her litigation experience includes representing an investment advisor in connection with the Picard v. Katz [11 Civ. 3605 (JSR) (HBP) in the Southern District of N.Y.] clawback action, a prestigious law firm and a national accounting firm in connection with the defense of professional malpractice actions, and a global communication company and a private equity firm in connection with their breach of contract and restrictive covenant enforcement claims. Maryann co-writes the monthly Attorney Professionalism Forum in the NYSBA Journal and has been selected as a Rising Star by Super Lawyers for 2014 and 2015.
Oreen Ead is a commercial real estate attorney in Tannenbaum Helpern's Real Estate, Construction and Environmental Law practice. She advises purchasers, sellers, borrowers, lenders, landlords and tenants on various commercial real estate transactions, including sales, acquisitions, joint ventures, financing, and leasing. Her experience includes the representation of a real estate fund in the redevelopment, leasing, licensing and financing of a historic beach-front community, as well as the representation of a private real estate investment, operating, management and development company in the initial acquisition and subsequent construction financing of a 100 plus unit condo development in Manhattan's Clinton neighborhood. Prior to Tannenbaum Helpern, Oreen was with Sullivan & Cromwell LLP. Oreen has been selected as a Rising Star by Super Lawyers for 2014 and 2015.
About Tannenbaum Helpern Syracuse & Hirschtritt LLP
Since 1978, Tannenbaum Helpern Syracuse & Hirschtritt LLP has combined a powerful mix of insight, creativity, industry knowledge, senior talent and transaction expertise to successfully guide clients through periods of challenge and opportunity. Our mission is to deliver the highest quality legal services in a practical and efficient manner, bringing to bear the judgment, common sense and expertise of well trained, business minded lawyers. Through our commitment to service and successful results, Tannenbaum Helpern continues to earn the loyalty of our clients and a reputation for excellence. For more information, visit http://www.thsh.com or follow us on Twitter: @THSHLAW.