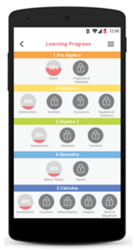 This app allows students to communicate and connect while learning material at their own pace.
Mountain View, California (PRWEB) January 12, 2016
Students are being bombarded with a million different pieces of knowledge every day, some more... appropriate than others. It's hard to know which information to take in—and how. Shmoop (http://www.shmoop.com), a digital publisher known for its award-winning Test Prep and certified Online Courses, has partnered with Genius Factory to release an app that delivers the right information using a new method: mind maps. Sound like a tool from the future? Well, welcome to the future.
With Shmoop's content and Genius Factory's platform combined, users can now access thousands of pages of math content—including textbooks, images, videos, and click-through examples—via dozens of color-coded, fun-to-use mind maps. Shmoop Math allows students to connect related concepts in pre-algebra, geometry, algebra, probability, statistics, pre-calculus, and calculus. Interacting directly with the materials as they study, students become a part of the learning process, helping them understand complex ideas and master difficult concepts. Whether users are struggling with one level or are looking to tackle an entire integrated math course, this app gets them where they need to go...without putting them to sleep.
"We're enhancing the traditional learning experience," says David Siminoff, founder of Shmoop. "This app allows students to communicate and connect while learning material at their own pace." Students navigate through the maps, easily finding the resources they need and connecting with other users via Q&A.
Shmoop Math can be downloaded from Google Play or the iTunes App Store and is compatible with Android and iOS.
About Shmoop
Shmoop offers hundreds of thousands of pages of original content. Their Online Courses, Test Prep, Teaching Guides, Learning Guides, and interactive Study Tools are written by teachers and experts and balance a teen-friendly, approachable style with academically rigorous concepts. Shmoop sees 13 million unique visitors a month across desktop and mobile. The company has won numerous awards from EdTech Digest, Tech & Learning, and the Association of Educational Publishers. Launched in 2008, Shmoop makes the magic happen from a labradoodle-patrolled office in Mountain View, California.