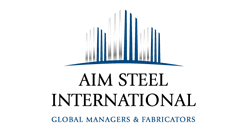 Our Nearshore facility will allow us to better serve our clients while giving us an advantage over our competitors.
Atlanta, Georgia (PRWEB) January 12, 2016
The Nearshore facility, aptly named because of its proximity to port, spans more than 100,000 sq. ft. and is fully equipped with CNC machines, drill lines, punches, plasma burners, super benders, lifts, and welding machines. The facility is projected to produce upwards of 300 tons of steel a week, reaching an estimated 16,000 tons annually, at full capacity.
This new location, a fully-owned subsidiary of Aim Steel International, is less than an hour's drive to port. This proximity to water gives Aim Steel an incredible advantage on both domestic and international projects. While cutting shipping and manufacturing costs on the back end, the company can now offer its clients even more competitive project bids.
"We are extremely excited to have a new facility on the west coast," explained Omar Ali, President of International and Domestic Affairs. "We have been looking for opportunities to strengthen our capabilities here in the U.S, and strategically, our Nearshore facility will allow us to better serve our clients while giving us an advantage over our competitors."
Certifications for the subsidiary include: American Institute of Steel Construction (AISC); IMMEX, which allows Aim Steel to ship across the U.S. and Canadian borders without taxes being imposed; Clark County, NV.; the city of Los Angeles; and AWS.
"ASI has grown successfully in the steel fabrication industry by capitalizing on flexibility, and the unlimited capacity our network of fabricators affords us," says David Brown, Director of Business Development for Aim Steel International. "The recent acquisition of ASI Baja enhances our existing advantages while giving us huge cost efficiencies and a team of professionals that will accelerate our growth in the coming year. We are very excited."
About Aim Steel International
Aim Steel International is one of the leading steel managers, fabricators, and engineers, with employees located globally. With more than 30 years of experience, Aim Steel has rapidly grown through a successful consolidation strategy and a number of significant acquisitions, including the latest Nearshore facility. To learn more about Aim Steel International and its subsidiaries, please visit http://www.aimsteel.com.