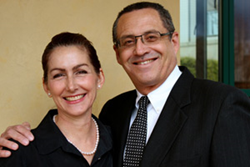 SANTA ROSA, CA (PRWEB) January 11, 2016
Francisco Canales, MD and Heather Furnas, MD, the founders of Plastic Surgery Associates and Allegro MedSpa, are announcing their first special affair of 2016. On February 4th, their Santa Rosa office will present a Fire and Ice Event. The evening is designed as the perfect time to cool off from the holiday madness, and turn up the heat before Valentine's Day.
Everyone in Napa Valley is invited to attend the February 4th Fire and Ice Event. The evening will kick off with wine and a selection of gourmet lite bites. Following hors d'oeuvres, information regarding the newest and most coveted nonsurgical treatments for the face, body, and vagina will be presented. Allegro MedSpa's aestheticians will be available to consult with those in attendance to determine the best procedures for their desired results.
This invitation-only Fire and Ice Event will revolve around the latest noninvasive treatments available from Dr. Canales and Dr. Furnas. These include the HydraFacial, a gentle method for exfoliating, moisturizing, and restoring facial tissues. The innovative MicroPen+PRP (Protein Rich Plasma) procedure, designed to provide long-term skin renewal almost anywhere on the body. CoolSculpting's fat elimination technique will be discussed that evening, as it is quickly becoming the country's most requested noninvasive procedure.
Finally, the Fire and Ice Event will also showcase the newest, nonsurgical vaginal rejuvenation techniques. ThermiVa utilizes radio frequencies for labia and vaginal tightening.
Those attending February's Fire and Ice Event will be entered into a raffle for several luxurious prizes and free treatments. Attendees do not need to be present at the raffle to win.
Plastic Surgery Associates first opened its doors in 1992. Today, along with the Allegro MedSpa, the practice is at the forefront of both surgical and noninvasive cosmetic procedures. The northern California group assists patients with a variety of procedures like breast augmentation and Mommy Makeovers, as well as nonsurgical rejuvenation like Botox Cosmetic and other dermal fillers.
Dr. Canales is Board Certified by the American Board of Plastic Surgery, and has served as Chief of Plastic Surgery at Santa Rosa Memorial Hospital and Chief of Surgery at Warrack Hospital. Dr. Furnas is also Board Certified and has served as the President of the Sonoma County Medical Association. Combined, Dr. Canales and Dr. Furnas have more than 60 years of medical experience.
Plastic Surgery Associates' Fire and Ice Event will be held February 4th, 2016, from 4-6pm. If you are interested in attending, please register early, as spaces will fill up. Contact the office for more information, or make your reservation by calling 707.537.2111. Those who cannot attend this special evening are encouraged to make a complimentary consultation with Dr. Canales or Dr. Furnas.
Contact:
Plastic Surgery Associates
4625 Quigg Drive
Santa Rosa, California 95409
707.537.2111
http://www.enhanceyourimage.com