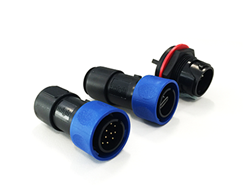 Wilmington, MA (PRWEB) January 12, 2016
Heilind Electronics, a leading global distributor of electronic components, has expanded its range of environmental power and data connectors with the Buccaneer® 4000 Series from Bulgin.
Featuring optimized sealing, these harsh environment connectors utilize the same twist-lock coupling as the 6000 and 7000 Series. The more compact format of the 4000 Series allows for easier integration into system designs.
Buccaneer® 4000 Series connectors are resistant to vibration, shock, and corrosion, and are equipped with a UV-resistant, flame-retardant plastic body.
Designed for a wide range of applications, including marine, industrial, and transport infrastructure.
Visit Heilind's website for more information about Bulgin Buccaneer® 4000 Series connectors.
About Heilind Electronics
Founded in 1974, Heilind Electronics, Inc. (http://www.heilind.com/http://www.heilindasia.com) is one of the world's leading distributors of connectors, relays, sensors, switches, thermal management and circuit protection products, terminal blocks, wire and cable, wiring accessories, and insulation and identification products. Heilind has locations throughout the U.S., Canada, Mexico, Brazil, Germany, Singapore, Hong Kong, and China. Follow Heilind on Facebook at facebook.com/Heilind and on Twitter at twitter.com/Heilind.