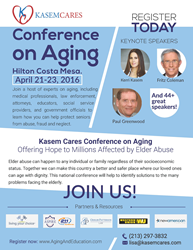 "Elder abuse can happen to any individual and any family regardless of socioeconomic status. We aim to make this country a better and safer place in which to age with integrity." -Kerri Kasem
Irvine CA (PRWEB) January 13, 2016
The Kasem Cares Conference on Aging will bring together professionals from across the nation to address the issue of elder abuse. The Conference features informative educational programs, meaningful exhibits, and stimulating speakers—a collaborative effort among community-based service providers, caring individuals, law enforcement, attorneys, and area agencies on aging.
The public is invited to learn about this pressing issue and will surely gain a greater understanding of the challenges seniors face. There will be opportunities for professionals to network with leading experts in elder care. To attend the 2016 Kasem Cares Conference on Aging in Orange County, California, go to http://www.AgingAndEducation.com. Keynote speakers are Paul Greenwood, Kerri Kasem, and Fritz Coleman plus over 44 speakers and four panels.
Kerri has made raising elder abuse awareness her life's mission. The legal battles the Kasem family fought and won—both for the right to visit their father, Casey Kasem, and to obtain control over his medical care—brought national awareness and attention to issues many adult children face. Kerri Kasem has stated: "Elder abuse can happen to any individual and any family regardless of socioeconomic status. We aim to make this country a better and safer place in which to age with integrity. This national conference will raise awareness and attention to the aging population."
For more information on the 2016 Kasem Cares Conference on Aging, or for sponsorship, exhibiting, and/or registration information, go to http://www.AgingandEducation.com. To have Kerri Kasem speak on this pressing matter, please contact KasemCares.org
Kasem Cares is a 501(c)(3) non-profit organization. The mission of Kasem Cares is to eliminate elder abuse, including isolation, through education and awareness, support of social change, and community service programs.
Media Contact:
Lisa Caprelli
lisa(at)goglossy(dot)com
(949) 346-4769