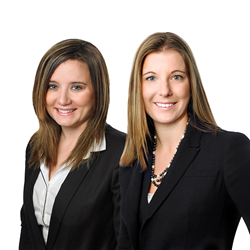 Jennifer and Christin are talented, experienced professionals, and our firm is only made stronger by having them join our partner group.
Calgary, AB (PRWEB) January 12, 2016
The partners of Collins Barrow Calgary LLP are pleased to announce that Christin Giebelhaus and Jennifer Hollis have become partners at the firm.
A strong accounting and financial reporting advisor, Christin works with clients in a wide variety of industries. Combining a strong work ethic and dedication to finding pragmatic solutions, Christin is a formidable resource for clients.
Jennifer's background includes degrees in both kinesiology and commerce, reflecting her drive, ability and passion for businesses in the health and wellness sector. A leader in developing new client service technologies, Jennifer is the key advisor to many owner-managed business and professional services clients.
"Jennifer and Christin are talented, experienced professionals, and our firm is only made stronger by having them join our partner group," says Managing Partner Dean Woodward. "It is critical we have a strong team of senior professionals to help our clients succeed in a challenging local economy. We are excited to have Jennifer and Christin make this commitment to their future with Collins Barrow."
For more information:
Christin Giebelhaus
Partner
Collins Barrow Calgary LLP
cjgiebelhaus(at)collinsbarrow(dot)com
403.298.1594
Connect on LinkedIn
Jennifer Hollis
Partner
Collins Barrow Calgary LLP
jahollis(at)collinsbarrow(dot)com
403.298.1572
Connect on LinkedIn
Dean Woodward
Managing Partner
Collins Barrow Calgary LLP
dwoodward(at)collinsbarrow(dot)com
403.298.1588
Abigail Gamble
Media Relations
Akcessia | Mayk Ideas
647.727.3584