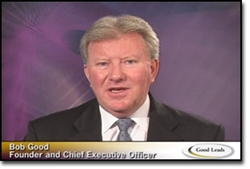 This service is designed to give both small businesses and larger firms looking for new markets a level of confidence in their business plans, said Bob Good, CEO of Good Leads
Salem, NH (PRWEB) January 13, 2016
Good Leads®, a technology sales leads and B2B lead generation services firm, has launched a new 2016 service designed to help technology centric firms have access to a Strategic Strike Inside Sales Team on an outsourced basis to assist in achieving their 2016 revenue goals. Good Leads has set aside its best technology-focused business development sharpshooters to find those net new discovery prospects.
"This service is designed to give both small businesses and larger firms looking for new markets a level of confidence in their business plans," said Bob Good, Founder and CEO of Good Leads. "Armed with a dedicated team of business sharpshooters, businesses can stake a leadership position for the current economic situation and beyond. Our Strategic Strike Inside Sales Team offering is a very customized and targeted approach to finding new customers."
Good Leads has set aside their best technology-focused sharpshooters to find those net new discovery prospects. "Good Leads' offering creates a center of excellence in sales funnel development with your company's name on it. We will provision a singular work pod for your new or lagging offering that will be equipped with dedicated, seasoned business development professionals, project management, and targeted contact lists all working under Good Leads premium outsourced lead generation Prospect Builder® brand and methodology," Bob Good concluded.
About Good Leads:
Good Leads® is a premier provider of sales and marketing, B2B lead generation and outsourced business development activities for technology centric firms on a global basis with significant emphasis in the U.S. and Canada. Bob Good is CEO and Founder of the 13 year old firm. Good Leads specializes in executive level lead generation and appointment setting with international emphasis on supporting external corporate sales teams. Good Leads corporate headquarters is in Salem, NH with sales offices in Massachusetts, Maine and California. Good Leads can be contacted at 866 894-LEAD.