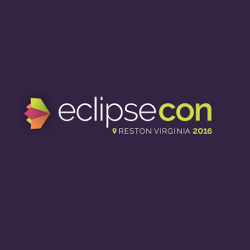 Ottawa, Ontario (PRWEB) January 12, 2016
The Eclipse Foundation is pleased to announce the keynote speakers and the program for the EclipseCon 2016 conference, planned for March 7-10 at the Hyatt Regency in Reston, Virginia.
The three keynote speakers will cover topics relevant to software development and future industry trends.

Tyler Jewell, President and CEO of Codenvy Inc., will lead off the conference by addressing the evolution of IDEs and presenting his vision of future development environments. Tyler will demonstrate a next generation Eclipse IDE, and show how major ecosystem vendors are establishing this vision.
Chris Rasmussen a GeoINT Pathfinder PM and Public OSS Lead at the National Geospacial-Intelligence Agency (NGA), will speak about the major transition that federal organizations such as his have undergone with respect to open source, and will provide insights into what this change in strategy means for those interacting with them.
Samantha Chiu, a member of Women Who Code, will describe the unique challenges and significant positive outcomes that she and her colleagues experienced in working to introduce programming skills to women living in austere environments, including her work in Afghanistan and Ghana.
EclipseCon is the annual North American gathering of the Eclipse community. The conference program has been published and topics include Eclipse Platform/RCP/Runtimes, Languages and Tools, Web/Mobile/Cloud Development, Modeling, Embedded, Science, Java 9, IDEs and more.
This year, EclipseCon is also co-located with the IoT Summit, hosted by the Eclipse Internet of Things (IoT) Working Group on March 8-9. Eclipse IoT is the leading open source community building Internet of Things protocols, runtimes, and device frameworks. It's a great chance to learn about new key initiatives from the Eclipse IoT community and about Eclipse IoT projects, as well as other open source projects used to implement IoT solutions.
Registration for EclipseCon is now open. Attendees who register by February 1, 2016 will receive a $250 discount off the full registration price. Companies are also invited to participate as EclipseCon NA sponsors. A detailed sponsorship prospectus is available.
"EclipseCon 2016 attendees will enjoy a program that provides a rich exposure to technologies from the Eclipse community used by millions of developers around the world. It will be an opportunity to learn and share ideas with the leaders of our community," said Mike Milinkovich, Eclipse Foundation's Executive Director. "In particular, the keynotes scheduled for this year will address areas of importance to our broad community, and to challenge the status quo."
About the Eclipse Foundation
Eclipse is an open source community whose projects are focused on building an open development platform comprised of extensible frameworks, tools, and runtimes for building, deploying, and managing software across the lifecycle. A large, vibrant ecosystem of major technology vendors, innovative start-ups, universities, research institutions, and individuals extend, complement, and support the Eclipse Platform.
The Eclipse Foundation is a not-for-profit, member supported corporation that hosts the Eclipse projects. Full details of Eclipse and the Eclipse Foundation are available at http://www.eclipse.org.