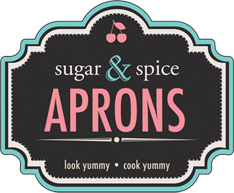 "Look Yummy, Cook Yummy" in Colorful, Cute & Sexy Retro-Inspired Aprons
Atlanta, GA (PRWEB) January 14, 2016
Sugar & Spice Aprons is where the stylish chef goes to find aprons that are equal parts sexy and throwback vintage styles from decades gone by. The Sugar & Spice motto, "Look Yummy, Cook Yummy," has taken on a whole new meaning with the company's unique inventory of colorful, retro-style aprons designed by owner and vintage enthusiast, Danielle Mathis.
All of the Sugar & Spice styles are unique, original designs inspired by vintage fashions from the 1920's through the 1960's. Sugar & Spice aprons are both pretty and practical. Each apron is handmade in the U.S. with 100% cotton from boutique fabric sources, and each one features a lined bodice, waistband, and ties for added strength and durability.
They come in both half-apron and full-coverage styles, and each apron features adjustable neck and/or waist ties so that they fit a range of sizes. The aprons are more generously cut so they fully wrap around the sides of the body for added protection from cooking ingredients. In addition to the variety of adult-sized apron, Sugar & Spice is adding a new line of designer children's retro-inspired aprons, most of which can be sold as matching mother-daughter sets. The children's aprons feature adjustable ties at the waist and neckline, so they can expand as your little one grows.
Sugar & Spice may have gone retro on their apron designs, but they have just released a new website that is extremely user-friendly with the newest easy-to-use navigation. The website features a colorful display of the many shades and styles from which to choose the perfect vintage-style apron for both mother and daughter. In just a click or two, they can sport a matching look for their next cooking adventure.
To learn more about Sugar & Spice and to order the adorable retro aprons, please visit the new website at http://www.sugarnspiceaprons.com