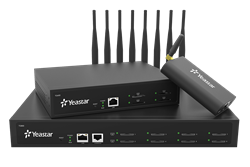 "We honestly feel that Yeastar's VoIP solutions will help us to continue to provide the best products and services to our customers." - Christian Buerk, Director of Sales
Buffalo, New York (PRWEB) January 13, 2016
VoIP Supply, North America's leading online VoIP solutions provider, has partnered with Yeastar, an innovative global provider of VoIP Gateways and PBX Appliances, in 2016 as it continues to diversify its product portfolio.
"We honestly feel that Yeastar's VoIP solutions will help us to continue to provide the best products and services to our customers," said Christian Buerk, Director of Sales at VoIP Supply. "Their unique product set allows us to further offer our clients the correct VoIP solutions for their implementation. We look forward to continuing our relationship with them in 2016."
As an example of their robust offerings, Yeastar's GSM gateway products feature multi-port FXS and FXO options, line echo cancellation, and are ideal for business sizes that range from SMB to Enterprise. Compatible with both SIP and IAX2, Yeastar helps any user integrate a traditional phone system into an IP-based solution, and also greatly compliments currently deployed VoIP Systems.
For more information about Yeastar solutions call 800-398-VoIP or visit VoIP Supply today.
About VoIP Supply
Since 2002, VoIP Supply has been the leading supplier of VoIP equipment and complete VoIP solutions in North America. VoIP Supply is known in the industry as responsive and knowledgeable VoIP product experts. With everything you need for VoIP, VoIP Supply has grown rapidly throughout the years. VoIP Supply is a three-time Inc. 500/5000 honoree, listed by Business First as one of WNY's Most Admired Companies, as well as one of Western New York's Best Places to Work for many consecutive years. VoIP Supply is also the first Certified B Corporation in Western New York.