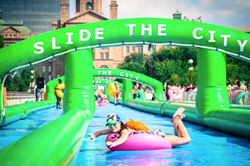 Stretching three city blocks, the slide definitely beats your usual morning commute!
Salt Lake City, UT (PRWEB) January 12, 2016
Snow may still be falling, but Slide the City is suiting up for 2016. Last year, thousands of water lovers slid into summer on this king-sized slide. With plenty of new locations, Slide the City will be the first to beat the heat when the summer returns.
"We loved working with cities all over the world last year and are excited to add more locations to our 2016 tour," said TR Gourley, Slide the City co-founder.
Adventure seekers will tackle the thousand-foot slide as early as May, when Slide the City begins its much-anticipated tour. Organizers anticipate over 100 events in cities worldwide this summer including Denver, Salt Lake City, Dallas, St. Louis, Indianapolis, Atlanta, Raleigh, Richmond, New York City and Phoenix, Kansas City, West Palm Beach, Calgary, Toronto, Vancouver, Montreal and many more in the US, Canada and in international locations. The website is updated with new locations weekly.
"Stretching three city blocks, the slide definitely beats your usual morning commute!" said co-owner John Malfatto, "But this year we wanted to add something more. The only thing better than a slip and slide as a kid was the annual block party in my neighborhood. Why not combine the two?"
Slide the City promises a block party to remember. After speeding down familiar city streets, sliders can take a break to check out street entertainers, visit local vendors, and munch on snacks. As always, Slide the City will donate a portion of the proceeds from each event to a local charity.
Tickets for various locations are already on sale. Sliders can purchase a Triple or Unlimited Slider Pass. With over 100 events in the US and Canada, waterslide enthusiasts are sure to find a Slide the City event nearby. Visit http://www.slidethecity.com for more information about Slide the City dates and locations, or checkout what fans have to share on Facebook at http://www.facebook.com/slidethecity.
About Slide the City
The first event of its kind, Slide the City has seen massive growth since its beginnings in 2014. Their 2015 summer tour stopped in over seventy cities around the world, and is on track to produce more than 100 events this year. Slide the City brings its massive slides to locations from coast-to-coast. With music, local vendors, activities, and more, city streets are transformed into the biggest block party of the summer.