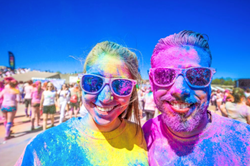 Color Me Rad has always been a tribute to the '90s. It's about time we embraced it
Salt Lake City, UT (PRWEB) January 12, 2016
After last year's hugely successful Bigger Badder Radder tour, Color Me Rad is throwing color back to the '90s for 2016. This year, paint splattered racers will Dare to Be RAD, attempting challenges through out the 5K course as they are splashed with a vibrant rainbow of color.
"We are super excited about the changes this year," said John Malfatto, Color Me Rad co-owner. "Color Me Rad has always been a tribute to the '90s. It's about time we embraced it."
The gel drop has been transformed into a full-on Slime Station, and challenges (similar to those in retro children's game shows) will be posted around the course, evoking nostalgia for the '90s. Each multi-colored participant will receive a phone shield to enable selfies while ensuring phones remain spotless.
Color Me Rad 2016 will kick off in March, when color revelers in Columbus and San Jose transform into masterpieces. The popular event will travel to 50 locations across the US and Canada, stopping in cities including Birmingham, Boston, Jacksonville, Philadelphia, Detroit, Toronto, and Calgary. For a full list of locations, visit the Color Me Rad website [http://www.colormerad.com .
"Color Me Rad is a 5K for everyone," said Malfatto. "We get everyone from athletes to kids to couch potatoes. We just want people to get outside covered in color!"
Registration for many 2016 events is now open. Learn more about Color Me Rad dates and locations at colormerad.com/locations, or see what fans have to say on their Facebook page http://www.facebook.com/colormerad5k
About Color Me Rad
Inspired by the Holi Festival of India, a group of friends decided to bring some excitement to the sport of running through color, music, and a total disregard for the mundane, and Color Me Rad was born. This popular 5K has brought splashes of color worldwide since 2012. Over 1.5 million participants have experienced its multitude of hues, as they begin their races in clean white t-shirts, and finish as multi-colored masterpieces. Finishers celebrate their accomplishment with the ultimate post-race party, which includes color throws, contests, dancing and DJs.