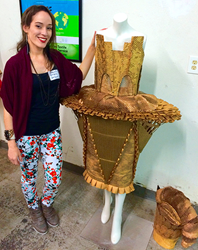 Orlando, FL (PRWEB) January 12, 2016
For the second consecutive year, American Textile Recycling Service (ATRS) joins SeaWorld, City Beverages and other leading Central Florida businesses as a sponsor of the annual Trash 2 Trends Recycled Fashion Show, a fundraiser to benefit Keep Orlando Beautiful. Trash 2 Trends, which is celebrating its third anniversary this year, will be hosted at SeaWorld Orlando's Ports of Call on February 6, 2016.
Trash 2 Trends features one-of-a-kind runway looks created from items that would otherwise head to landfill, including used clothing, shoes and household textiles, plastic bottles, aluminum can tabs, cardboard packaging and more. As a Diamond Sponsor of this Evening of Recycled Fashion, ATRS will provide donated textiles and other materials from its Orlando facility for artists to reuse and repurpose.
The Trash 2 Trends event kicks off this Thursday January 14 with its annual Mix and Mingle Party, hosted at the ATRS warehouse facility in Orlando. Local businesses and elite eco-fashionistas in attendance will see winning submissions on display from last year's show, meet this year's designers and preview materials collected at the facility for upcycling on the runway.
Trash 2 Trends is not only an extraordinary celebration of fashion, it also conveys a very important message. According to the Secondary Materials and Recycled Textiles (SMART) Association, Americans discard approximately 70 pounds of textiles each year. However, only about 15% of those items are recycled - the remaining 60 pounds go directly to our landfills. But Central Florida residents don't have to be upcycling artists to help make a change! Easy, convenient ATRS Clothing & Shoe Donation bins are available all throughout Orange County and beyond to donate gently used, unwanted clothing and shoes. Even if a wardrobe item is out of season or no longer fits, it can still do so much good for someone else.
VIP tickets for the Trash 2 Trends show are sold out, but general admission is still available. For more details and to purchase your tickets, please visit the Trash 2 Trends page on Eventbrite.com.
About American Textile Recycling Service
American Textile Recycling Service (ATRS) is the nation's fastest growing textile recycler and an official recycling partner of Rock 'n' Roll Marathon. Thru its socially responsible business model ATRS provides free textile recycling solutions for the public, creates job stimulation worldwide and much-needed funding for worthy local charities. Easy, convenient ATRS Clothing & Shoe Donation bins are available throughout Central Florida, Colorado, Texas, Michigan, Tennessee, Atlanta, Oklahoma, Arizona, Indiana and Southern California. ATRS is committed to keeping textile waste from local landfills and promoting a greener tomorrow. For press inquires contact pr (at) atrsonline (dot)com.