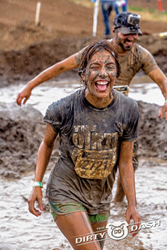 This year we want to exceed all expectations to give them the muddiest Dirty Dash yet!
Salt Lake City, UT (PRWEB) January 12, 2016
Last year, The Dirty Dash proved that anyone can "play dirty." Advertised as the fun run for everyone, this filthy 5K inspired couch potatoes and athletes alike to put on their running shoes, wade through mud pits, and clamor over obstacles. The popular event has announced its 2016 schedule with the promise of "more mud, and less torture."
"Too often people associate running with torture," said John Malfatto, co-founder of The Dirty Dash. "We want to emphasize that the Dirty Dash is more about having a good time than showing how hardcore you are."
Nevadans will be the first to get down and dirty when the event stops in Reno this March. The family-friendly event will also bring the mud to Utah, Idaho, Washington, Oregon, Montana, Colorado and New Mexico throughout the summer.
"We can't wait for another unforgettable season!" said Ryan Creighton, Dirty Dash event director. "The venues are amazing, and we can't wait to introduce our new obstacle."
Adventure seekers arrive at the starting line squeaky clean, but after jumping through mud pits, scaling cargo nets and splashing down slides, they emerge filthy. If an obstacle looks too daunting, runners can avoid the challenge, without judgment. Event directors are committed to bringing even more mud to every event so adventure-seekers can get even filthier.
"People come for the mud," said Malfatto. "This year we want to exceed all expectations to give them the muddiest Dirty Dash yet!"
Registration for many 2016 events is now open. Learn more about Dirty Dash dates and locations at thedirtydash.com/locations, or see what fans have to say on their Facebook page https://www.facebook.com/TheDirtyDash.
About the Dirty Dash
Since 2010 filthy participants have sloshed through this fun run turned playground. Participants climb over obstacles and wade through mud pits at the family-friendly event, designed for participants of all ages and abilities. With each year, The Dirty Dash debuts new obstacles and more mud for thousands of smiling participants.