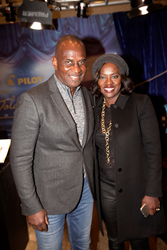 Los Angeles, CA (PRWEB) January 12, 2016
GBK, the luxury lifestyle gift lounge and special events company, and Pilot Pen honored the 2016 Golden Globe Awards' Nominees and Presenters with a luxury gift and style lounge on January 8th and 9th, fit for Hollywood royalty and highlighting Pilot Pen's Gold Standard in writing instruments. Pilot Pen offers exceptional writing instruments that range from everyday pens to high end pens to works of art that feature the centuries-old Japanese art of Maki-e. Pilot's pens are renowned worldwide for their quality, performance, innovative designs and their high level of consumer satisfaction.
With a special nod to Pilot Pen's Namiki Maki-e Collection, featured at the GBK lounge, the space glowed with lanterns and Japanese-inspired cherry trees and decorative touches. The Namiki line embodies the key aesthetics revered by the Japanese culture – unsurpassed artistic design, workmanship and superior writing experience. Featuring intricately detailed and meticulously handcrafted designs, Pilot's Namiki Maki-e pens are truly the gold standard in Maki-e.
Among the luxury lifestyle brands includes gifts from the event's Presenting Sponsors: LifeCell, an all-in-one antiaging treatment formulated to target every aspect of aging skin; iRestore Laser Hair Growth System – Proven hair loss treatment for men and women, one of only 4 products of its kind in the USA with FDA clearance; Freedom Quit Smoking System - the nicotine-free method to quit; and TheScienceofEating.com, a weight loss, health, wellness, fitness, recipe & healthy lifestyle website.
Gifts from a variety of different categories including beauty, health and fitness, fashion, electronics and more filled the lounge and spoiled the celebrities, who took home a giant bag filled with goodies. Gifts within the beauty, health, and wellness categories included items from: Burke Williams Spa, HAYARI PARIS, Live Ultimate Whole Skincare, The Sweat Shoppe, Tweezerman, Au Bon Broth, Paula's Choice Skincare, and Truly Yours Parfums.
Fashion included a diverse collection ranging from formal to trendy-casual, handmade, personalized and tried-and-true brands we all love. Sponsors included: Hale Bob, American Hat Makers, Beija-Flor Jeans, MyIntent.org, Cynthia Gale New York, and The Artisan Group®.
Other great gifts include some unique luxury items from sponsors such as: Belmond La Samanna, Relief Bed®, Couch Potato, L'amourose, BoomCase, Trtl Pillow, and Shhh Silk.
Gourmet sweets and treats were sampled and gifted at the event by Be Tini Spirits, Ike's Place, Bread Basket Cake Company, Enchanted Sweet Shoppe, and Jöne's Gourmet Gelato.
DJ SHY topped off the event with her eclectic mix of popular tunes and old-school hits, helping to make this year's lounge unforgettable.
As always, GBK highlighted a few causes at the event and helped to promote awareness for these diverse organizations. The charity beneficiaries included:
The Creative Coalition - The Creative Coalition was formed for the charitable and educational purposes of bringing together artists and entertainers to learn about pressing issues so they can better inform and influence the community and nation. For more information, please visit: thecreativecoalition.org
Lambda Legal - Lambda Legal is a national organization committed to achieving full recognition of the civil rights of lesbians, gay men, bisexuals, transgender people and those with HIV through impact litigation, education and public policy work. For more information, please visit: lambdalegal.org
Food on Foot - Food on Foot is a non-profit organization dedicated to providing the poor and homeless of Los Angeles with nutritious meals, clothing, job opportunities, and assistance in the transition to employment and life off the streets. For more information, please visit: foodonfoot.org
Sugar Ray Leonard Foundation - The Sugar Ray Leonard Foundation is committed to funding research and creating awareness for childhood type 1 & 2 diabetes and to help children lead healthier lives through diet and exercise. For more information, please visit: sugarrayleonardfdn.org
ABOUT GBK:
GBK, formerly GBK Productions, is a luxury lifestyle gifting and special events company, specializing in entertainment marketing integration. Formed in 2000 by Gavin Keilly, the company's Founder and CEO, GBK consists of five divisions: GBK Celebrity Gifting, GBK Special Events, GBK Weddings, GBK Charitable Consulting and GBK Marketing/Public Relations. Widely known in the entertainment industry for bringing that little extra something into the Gifting Lounge environment, GBK offers its clients a full range of marketing services. For more information on Gavin B. Keilly (CEO), Carla Domen (VP) or GBK, please go to gbkproductions.com.