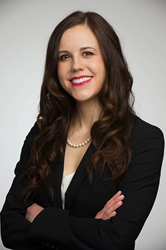 DENVER, Colo. (PRWEB) January 12, 2016
Lewis Roca Rothgerber Christie LLP announces that Diane R. Hazel has joined the firm's Denver office as an Associate in its Litigation practice group.
Clients turn to Hazel for managing risk and resolving disputes in industries as diverse as insurance, energy, retail and industrial products, pharmaceuticals, and health care. She represents companies in business litigation, class actions, and government investigations.
Hazel specializes in antitrust litigation and counseling, and has worked on a wide range of antitrust matters, including MFNs, market allocation, price fixing, group boycotts, reverse payments, product hopping, refusals to deal, bundling, and joint ventures.
Prior to joining Lewis Roca Rothgerber, Hazel was with Hunton & Williams in Washington, DC. She was also an attorney in the Bureau of Competition at the Federal Trade Commission, where she investigated and prosecuted antitrust matters in the health care and pharmaceutical industries. During her tenure at FTC, she was awarded a Fulbright Grant from the U.S. State Department and spent a year in Namibia working with the Namibian government on antitrust and consumer protection matters.
Hazel also has experience as a consultant with Ernst & Young, and was recognized with the E&Y High Impact Award for her work on securitized transactions. She received her law degree cum laude from Georgetown University, where she was editor of the Georgetown International Environmental Law Review, and her bachelor's degree in Business magna cum laude from Wake Forest University.
Lewis Roca Rothgerber Christie LLP represents diverse domestic and international clients across all industries and organizations ranging in size from individuals and start-ups to Fortune 500 corporations, including some of the world's most recognizable brands.
About Lewis Roca Rothgerber Christie LLP
Lewis Roca Rothgerber Christie is built on the strengths of legacy firms Lewis Roca Rothgerber and Christie, Parker & Hale, providing clients across a wide range of industries with representation in litigation, intellectual property, business transactions, gaming, government relations and other practice areas. With approximately 300 attorneys, Lewis Roca Rothgerber Christie offices are located in Albuquerque, Colorado Springs, Denver, Las Vegas, Los Angeles, Orange County, Phoenix, Reno, Silicon Valley and Tucson. For more information, visit lrrc.com.