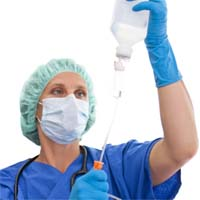 This two-step method results in a greater than 5-fold increase in intratumoral drug concentrations...
Raleigh, NC (PRWEB) January 13, 2016
Scientists at Boston College and Brigham and Women's Hospital say they have developed a two-step approach for delivering chemotherapy that has the potential to improve mesothelioma treatment outcomes. Surviving Mesothelioma has just posted a new article with details of the research study. Click here to read it now.
Recognizing that chemotherapy for mesothelioma is only marginally effective, the research team first injected sick mice with nanoparticles specially designed to infiltrate mesothelioma tumors.
When chemotherapy drugs were then administered, the nanoparticles acted like magnets for the drugs, bringing more of them into the mesothelioma tumors where they could attack mesothelioma cells.
"This two-step method results in a greater than 5-fold increase in intratumoral drug concentrations compared to conventional 'drug-alone' administration," writes researcher Aaron Colby, PhD, from the Biomedical Engineering and Chemistry Departments at Boston University.
"Chemotherapy resistance is a major problem in the treatment of malignant mesothelioma," says Alex Strauss, Managing Editor of Surviving Mesothelioma. "If the two-step method could get around this problem, it could have a significant impact on mesothelioma survival."
Learn more about the two-step drug delivery method in Novel Drug Delivery Method May Boost Mesothelioma Outcomes, now available on the Surviving Mesothelioma website.
Colby, Aaron, "Two-Step Delivery: Exploiting the Partition Coefficient Concept to Increase Intratumoral Paclitaxel Concentrations in vivo Using Responsive Nanoparticles", January 7, 2016, Scientific Reports, 18720, http://www.nature.com/articles/srep18720
For nearly ten years, Surviving Mesothelioma has brought readers the most important and ground-breaking news on the causes, diagnosis and treatment of mesothelioma. All Surviving Mesothelioma news is gathered and reported directly from the peer-reviewed medical literature. Written for patients and their loved ones, Surviving Mesothelioma news helps families make more informed decisions.